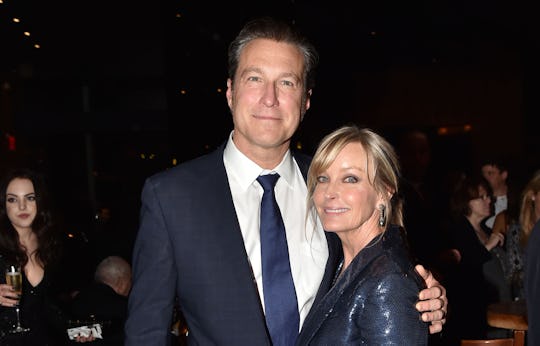 Variety/Penske Media/Getty Images
John Corbett Is Living A Blissful Life With His Wife Bo Derek
And just like that... the actor has been with his wife for 20 years.
The last time we saw John Corbett on Sex and the City as Aidan Shaw, he was wearing his baby boy Tate and looking for furniture with his wife. (That's if you don't count the second Sex and the City movie which I recommend you do not count.) Corbett looked so natural wearing little Tate, incidentally played by Sarah Jessica Parker's baby boy James Wilkie. I couldn't help but wonder... does John Corbett have any kids himself? Or is he just a good enough actor that he can fake it? Here's what you need to know.
Does John Corbett have kids?
Corbett has been working steadily since the late '80s, when he was chosen to play a minor role on the series The Wonder Years just before landing his big break playing chill dude Chris Stevens on Northern Exposure. While he has certainly played fathers before, as Aidan and in the upcoming My Big Fat Greek Wedding 3, Corbett himself has never welcomed children.
He married his longterm partner Bo Derek in 2020.
Corbett first met Bo Derek in 2002, when the two were set up on a date to go to an Oscars after-party by a mutual friend. He admitted he was "very intimidated" to go on a date with iconic model and actress, but clearly it worked out. They've been together ever since, living at their Santa Barbara, California ranch, happily unmarried until 2020 when they had a surprise wedding. Corbett announced his nuptials to longtime friend Jerry O'Connell in a Zoom interview on The Talk at the time. "Jerry, I can't believe that I forgot to tell you that around Christmastime we got married. Bo and I got married!" He explained that they decided to get married because they "didn't want to look back at 2020 as that thing that everybody looks back at and hated."
He once considered adoption as a viable option.
The actor admitted to Access in 2010 that he felt like he was "past all that" when it came to having children with Derek. But he was thinking about adoption. "Now, adopting kids, that's a whole other thing. That's not out of my realm one day to do," he said at the time, "One day, you know, when I settle down, I mean, I know everybody does it, but I'm just not everybody and if that day ever comes when I adopt a kid — if Bo's into it — I'll be moving less around the world, trying to make a buck."
They're living their best lives together.
The couple have since moved on from the idea of growing a family and are now enjoying a life of blissful routine together. "I am so into a rut and a routine, but normally I'm lucky enough to mix it up with travel," Derek told Variety of her daily routine in 2020. "But right now, if I'm home, I wake up, make coffee, feed the horses, feed the dogs, feed myself, go to my computer, work in the garden, swim in the pool for exercise and then feed horses, feed dogs, feed ourselves. John and I watch Jeopardy while we eat and then we watch movies all night."
And just like that, John Corbett found his soul mate.