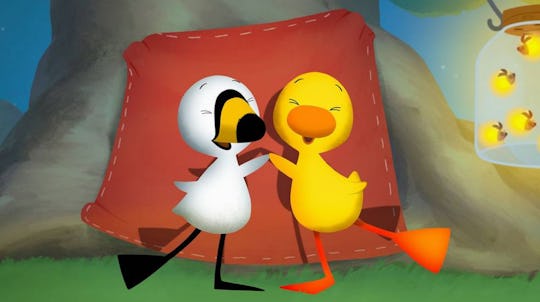 Apple TV+
Duck & Goose Is Coming Back For Another Adorable Season & This Clip Is So Cute
The feathered pals are back for a second season on Apple TV+.
Duck & Goose are back for more sweet adventures on Apple TV+. The lovable pals and stars of the animated series Duck & Goose, based on the books by Tad Hills, are returning for a second season of gentle fun on the streaming service. And a sneak peek clip from the new season sees the characters trying out costumes for an underwater adventure of make believe.
We first met Duck and Goose, two optimistic young birds who become friends despite their differences, in the books of the same name by Tad Hills back in 2006. Now The New York Times bestselling series for preschoolers has been turned into a gentle animated series on Apple TV+, where Duck and Goose continue to inspire kids to see past their differences and find ways of resolving issues both big and small by finding ways to understand each other.
A clip from Season 2 of Duck & Goose sees the two pals doing their best to entertain a friend by pretending to be underwater creatures. Goose pretends to be a "peaceful little crab scuttling in the sea" while Duck is "a big and exciting shark." Goose wants the sea to feel relaxing, while Duck wants it to be exciting. Their little feathered audience member decides that the two should get together to be an octopus. They pull together a costume from a lily pad and make it work.
Season 2 of Duck & Goose premieres on Apple TV+ on July 7, and of course the first season of the series is still available to stream on the platform now. There are nine episodes in total, with Duck and Goose getting up to all sorts of fun adventures like building their own playhouse, learning magic tricks from their pal Bluebird, seeing their first sunrise, and more. The episodes are all around the 22 minute mark and each feature two different adventures to keep little ones with short attention spans entertained and engaged.
Common Sense Media recommends the series for kids from 2 years old and up, noting that watching Duck & Goose overcome their different ways of looking at the world is helpful to children while "parents will love the social-emotional lessons and pleasant tone, while preschoolers will enjoy the sweet adventures."
Check out Season 2 of Duck & Goose on July 7 for a nice, relaxing watch with your kids.