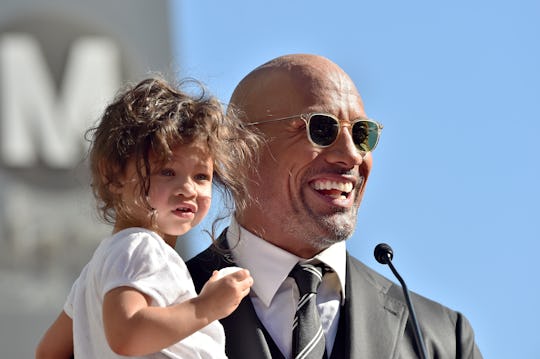 Axelle/Bauer-Griffin/FilmMagic/Getty Images
Dwayne Johnson Does Bicep Curls With His 5-Year-Old Daughter & Oh, There's Video
The Rock lifted her like she was a little feather.
Dwayne "The Rock" Johnson takes fitness seriously. The former WWE wrestler often takes to social media to share clips from his grueling workouts, and they tend to be pretty intimidating. To everyone but his three daughters, apparently. Johnson's youngest daughter, 5-year-old Tiana joined him for his workout in a recent Instagram post, just hanging off of her dad's arm as he did bicep curls like she was no heavier than a feather. This is par for the course for Johnson's daughters, who have a tendency to use him as their climbing gym/playmate/home spa client any chance they get.
Johnson, who shares Tiana and 7-year-old Jasmine with wife Lauren Hashian as well as 21-year-old daughter Simone with ex-wife Dany Garcia, took to Instagram on Sunday to share his latest workout at the park. "Reps at the park count too, right!?" he captioned the video where he is seen easily doing bicep curls with Tiana dangling from his arm. "She's 5 now, and at the rate she's growing it ain't gonna be long before my youngest tornado outgrows the bicep."
While we are impressed that the Jungle Cruise star can lift his daughter so easily with one arm, she is just laughing. Par for the course.
Tiana has a history of treating her world famous dad with glorious irreverence, alongside her older sister Jasmine. Like back in March when she treated her dad to a manicure that included a full pink paint job all over his head along with a drawn-in mustache and he just sat there and let her do it. Or when he had to go away on business and came home to a new family pet, a hairless guinea pig named "Popo," who was set up in the living room running around with a case of the zoomies.
Johnson always takes whatever his girls want to do with him in stride. As he explained it last year when the two little girls played a prank on him using shaving cream, "They're only little ones once so I'll play this game til the wheels fall off." Besides, the sound of their giggles when he went along with the prank was enough to melt even the coldest of hearts.
Dwayne Johnson might be "The Rock" to the rest of us, but to his daughters he is proud to be a playmate, a foil, a makeup model, and even a climbing gym. And we love to see it.