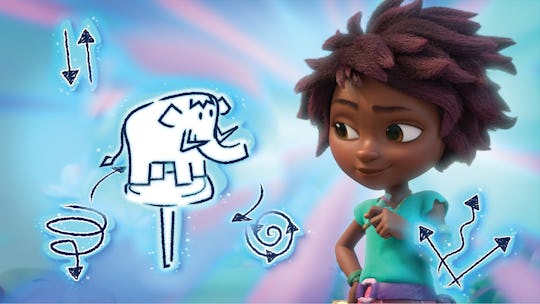 Disney Junior
Exclusive Eureka! Clip Introduces Star Of Disney's New STEAM Preschool Series
Stars from Hamilton lend their voice to this music-filled, animated series!
Preschoolers get to travel to prehistoric times in a fun new animated Disney series called Eureka! The show is STEAM-focused, starring a talented young inventor named Eureka (voiced by Ruty Righi from Disney Channel's Sydney to the Max.) This creative girl, who lives in a fantastical and fictional world, is known for her out-of-the-box thinking and tinkering, which she calls "thinkering." Eureka creates unique contraptions "aimed at making the world a better place and moving her community of Rocky Falls into a more modern era." She also (literally!) invented the wheel — how fun is that?
Musical-loving parents will surely enjoy watching this show with their little ones. Eureka's parents are voiced by Renée Elise Goldsberry, who originated the role of Angelica Schuyler in Broadway's Hamilton, and Lil Rel Howery (Free Guy). Her teacher is voiced by Javier Muñoz, who starred in Broadway as Alexander Hamilton in Hamilton and as Usnavi de la Vega in In The Heights. With this much talented, you know the musical moments will be amazing!
"Along with her best friends and beloved pet mammoth, Eureka is learning to embrace that she is not ordinary…she's extraordinary — and young viewers will realize they can use their own imaginations to make big things happen, too!" Disney Junior said in a statement.
In an exclusive clip of Eureka! shared with Romper, fans can get the first look of this adorable show.
In the clip, Eureka and her friends, Pepper and Barry, discover a wooly mammoth stuck in a tree. After a little thinkering, she comes up with an idea for a "woolly pulley." As she evaluates the problem, her thoughts are narrated and drawn on screen, to help little audience members see how she goes from a problem, a thought, a solution, and a way to make it all happen. It's such an accessible, well-designed way to teach complicated STEAM concepts to kids.
Eureka! is produced by Brown Bag Films, the Academy Award-nominated animation studio behind Doc McStuffins, the groundbreaking animated series that helped pave the way for diverse on-screen female role models in preschool entertainment.
"Like Doc McStuffins and other Disney Junior series with diverse female role models, including Mira, Royal Detective and Elena of Avalor, Eureka! features a vibrant, inclusive environment; rich, diverse cast of characters; and a resilient lead who, despite living in the past, is an amazing role model for today's girls," Disney Junior said. "The new series aims to foster creativity, innovation, curiosity, and acceptance among young audiences."
Eureka! premieres June 22 on Disney Junior and Disney+.