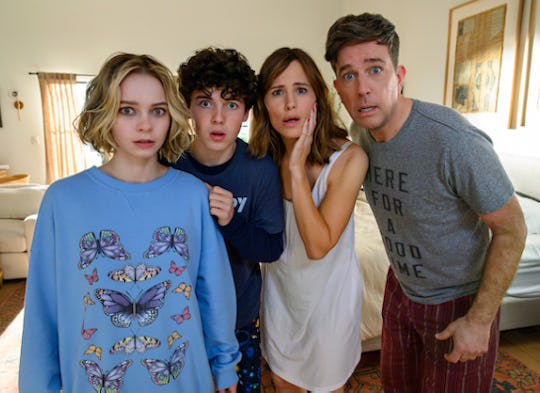 Netflix
Jennifer Garner & Ed Helms Star In A New Body Swap Holiday Movie Coming To Netflix
In the Family Switch, even the baby and the dog switch bodies.
If there's one thing we love more than a body switch movie, it's a body switching movie starring Jennifer Garner. Set during the holiday season, no less. And that's exactly what we're getting with this year's Family Switch on Netflix. Here's everything you need to know before it premieres.
Family Switch is based on a book by Amy Krouse-Rosenthal.
The movie Family Switch is based on the book Bedtime for Mommy by Amy Krouse-Rosenthal, and tells the story of Jess (Jennifer Garner) and Bill (Ed Helms) Walker, two parents who are trying to keep their family connected as the holiday season gets underway and they feel everyone moving away from each other. It's getting more and more difficult as their daughter CC (Emma Myers) and son Wyatt (Brady Noon) are in their teens and becoming increasingly distant from their parents. "When a chance encounter with an astrological reader causes the family to wake up to a full body switch," the official synopsis reads, "on the morning of the most important day of each of their lives, can the Walkers unite to land a promotion, college interview, record deal and soccer tryout?"
The trailer sees the whole family getting mixed up.
As the family poses for a photo during a rare planetary alignment ahead of the holidays in the first trailer for Family Switch, they all do that thing you should never do. They wish the other person could understand their lives better. Bill wishes he could be like Wyatt and just eat constantly and never worry about it, CC wishes her mom could be her, while Jess wishes CC "could be me for one minute." They ask a woman, played by none other than a sly-looking Rita Moreno, to take their photo right as the planets align. And then wake up the next day to discover Bill and Wyatt have swapped bodies, Jess and CC have swapped, and best of all, the baby and their dog have swapped bodies. Because the dog is walking on his hind legs while the baby is drinking from the dog's water bowl. The trailer includes a few fun nods to some other body swap movies like Freaky Friday and, best of all, 13 Going On 30 starring Garner as a 13-year-old Jenna turned into her 30-year-old self after making a wish.
When can you you watch Family Switch?
Family Switch drops on Netflix on Nov. 30, just in time for the holiday season. A time when many of us might be tempted to dream that we could switch bodies with our kids. We can look to this movie as a cautionary tale so we don't go making any wishes ourselves.