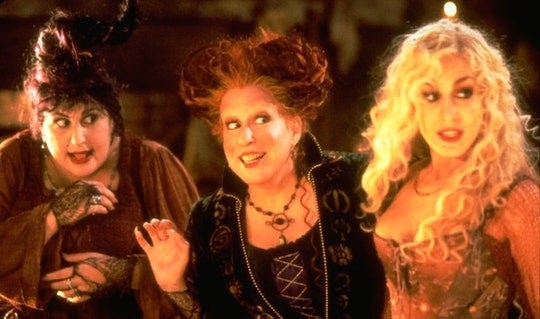 Walt Disney Pictures
34 Of The Best Halloween Movies To Stream On Disney+
Obviously Hocus Pocus made the list...
Disney has been knocking Halloween movies out of the park for decades. Flicks that aren't too spooky but still mange to deliver plenty of tricks and treats for young viewers. And, fortunately, there are plenty of family-friendly Halloween movies on Disney+ to stream right now.
For starters, parents will be delighted to find a number of Disney Channel Original Movies on this list like Halloweentown, Twitches, and Don't Look Under the Bed, which aired in the late '90s and early 2000s. Not to mention, Disney+ has a handful of classic of Halloween movies, like the greatest Halloween film of all time, let's just all agree right now, Hocus Pocus. You can also find the claymation classic Tim Burton's Nightmare Before Christmas.
Beyond the classics, there are options for little ones who prefer something a little less scary. Take, for example, the musical feature Z-O-M-B-I-E-S about singing and dancing zombies, and Monsters Inc. about some not-so-scary animated monsters, will get your kids in the Halloween spirit without giving them nightmares.
So as you plan out your family's epic costumes for 2021 and start to dig into your candy stash for trick-or-treaters, here are the best Halloween movies that you can find on Disney+.