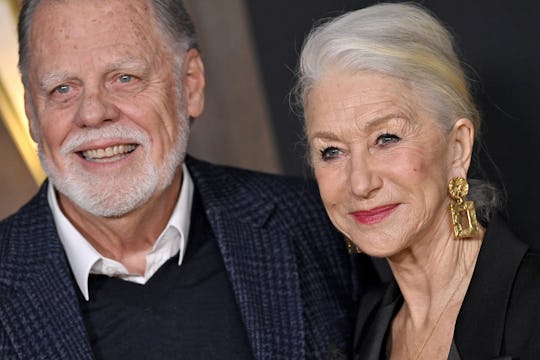 Axelle/Bauer-Griffin/FilmMagic/Getty Images
Helen Mirren Fell In Love With Her Husband Because He's A Devoted Father
"I have to say that the thing I loved most about Taylor was his absolute, total commitment to his children."
In her latest role as Cara Dutton in 1923, the Yellowstone prequel on Paramount+, Helen Mirren displays some real grit. One of the first scenes sees Mirren chasing a villain with a shotgun in the wilderness of Montana. Cara Dutton is wife to Jacob (Harrison Ford), tough and loyal and a true partner in everything. A role she understands all too well in her real marriage to a fellow powerhouse, Taylor Hackford. Here's what else you need to know about Mirren's husband and family.
Helen Mirren didn't like her husband, Taylor Hackford, at first.
The Academy award-winning actress was 41 years old when she auditioned for director Taylor Hackford's film White Nights in 1986. She knew her mind, she knew what she liked and what she didn't like. And she did not like to be kept waiting to audition for the man who would become her husband, as Hackford recalled in 2006. "It was a strange way to meet Helen, because she is a lovely person," he told AARP The Magazine. "But she didn't hold back her fury." She eventually got over her irritation and the two fell in love. Especially after Mirren saw Hackford with his sons.
She fell in love with her husband as a dedicated father.
Mirren told AARP that it was Hackford's devotion to his sons, Rio and Alex, that had her falling for him in the end. "I have to say that the thing I loved most about Taylor was his absolute, total commitment to his children," she said at the time.
They married in 1997.
Neither Mirren nor Hackford were in a big rush to get married, but eventually they decided it was time. "We got married in the end because we realized that we were going to be together forever," Mirren said in 2016. "We got married, ultimately, for legal reasons more than anything else. Estate planning and other complicated things like that. And our families, we sensed, wanted us to be married. I always said I have nothing against marriage; it just wasn't to my taste, like turnips. It took me a very long time to come around to acquiring the taste. I just had to meet the right turnip."
They were married on Hackford's birthday, New Year's Eve.
She never wanted biological children.
In a 2016 interview with ABC News, Mirren said she had never really wanted children of her own. "I was always too engaged in my life as an actress. At that time, I couldn't comprehend that you could incorporate a child into that without letting a child down somehow." She said at the time, adding that "tt was never an absolute conscious decision, it was just, 'Oh, maybe next year, maybe next year, until really there was no next year."
Her stepson Rio was born an actor.
Taylor Hackford welcomed his oldest son Rio with ex-wife Georgie Lowres in 1970. Rio went on to become a well-respected actor in his own right, starring in films like Swingers and Pretty Woman and television series like The Mandalorian, Treme, and American Crime Story.
Rio died of cancer when he was 51 years old.
Rio died in 2022 after a battle with uveal melanoma, an aggressive form of cancer. At the time of his death, Hackford and Mirren issued a joint statement letting people know they "are both inspired by the life of our son and stepson, Rio Hackford, and heartbroken by his loss. His life showed us how to live in generosity and community," they added per People. "He shared his life's journey with so many who now mourn him, and at the same time, celebrate their fortune in knowing him." Rio's death was mourned by former co-stars like Vince Vaughan and Renee Zellwegger as well.
Her stepson Alex is a musician.
Taylor welcomed son Alex in 1979 with second wife Lynne Littman, and he too works in the entertainment industry as a musician. In 2019, Mirren shared a photo of Alex on Instagram with the caption, "last night with my stepson Alex who is responsible for the music in the new sony playstation game Death Stranding. ( and all their other games.) It's groundbreaking brilliant and he is brilliant. very proud step mom."
Helen Mirren chose her path in life, she chose her husband. And she chose her children. She's a woman who knows what she wants.