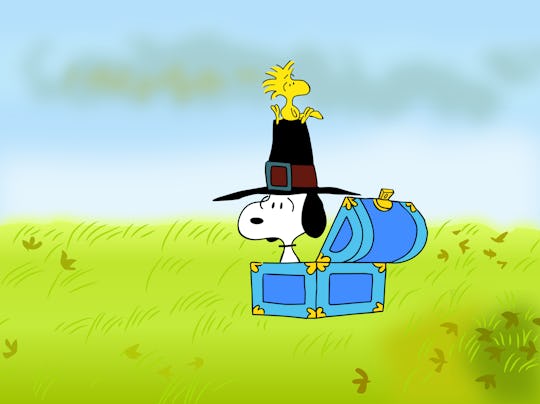 Apple TV+
How To Watch A Charlie Brown Thanksgiving In 2023
The beloved holiday special turns 50 this year.
Charlie Brown has been celebrating Thanksgiving with his friends for 50 years. He's been falling for Lucy's football gag for five decades, and we're starting to wonder if he'll ever manage to pull it off. But what we do know for sure is that we'll be tuning in to see it all play out again this year. So how can you watch A Charlie Brown Thanksgiving in 2023? Here's everything you need to know.
A Charlie Brown Thanksgiving premiered 50 years ago.
A Charlie Brown Thanksgiving, which first aired in 1973, really brings together all the classics from the Peanuts gang. Lucy convinces Charlie Brown to try to kick a football before pulling it out of the way at the last minute, a favorite gag for everyone, and Peppermint Patty manages to steamroll over his plans for the holidays as only she can. The plan for the Brown family, Charlie, Lucy, Snoopy, and those absentee parents of theirs, was to head off to their grandma's for the holidays. Peppermint Patty changes all of that when she invites herself over for Thanksgiving at his house, then proceeds to invite several of their friends for dinner at his house too. What's Chuck to do, say no? Of course not. He pulls together a fabulous backyard dinner to give thanks with his friends. Although whether or not any of them are thankful is another story all together.
How to stream A Charlie Brown Thanksgiving.
Pretty much the entire Peanuts library is available on Apple TV+, including A Charlie Brown Thanksgiving, so if you're a subscriber, you can simply watch it there.
You can stream A Charlie Brown Thanksgiving for free on select days this November.
If you don't want to subscribe to Apple TV+, the streaming service is making A Charlie Brown Thanksgiving available for free on Saturday, Nov. 18 and Sunday, Nov. 19, the weekend before Thanksgiving. As long as you have the Apple TV+ app on a streaming device like Roku, or on your iPhone or smartphone or tablet, you can watch it for free on those days.
You can buy A Charlie Brown Thanksgiving to keep all year long.
If you don't want to subscribe to Apple TV+ and you're too busy the weekend before Thanksgiving to watch it, you can always buy a DVD of A Charlie Brown Thanksgiving on Amazon or a digital copy. You might as well, you know you're going to watch it again and again. For another 50 years at least.