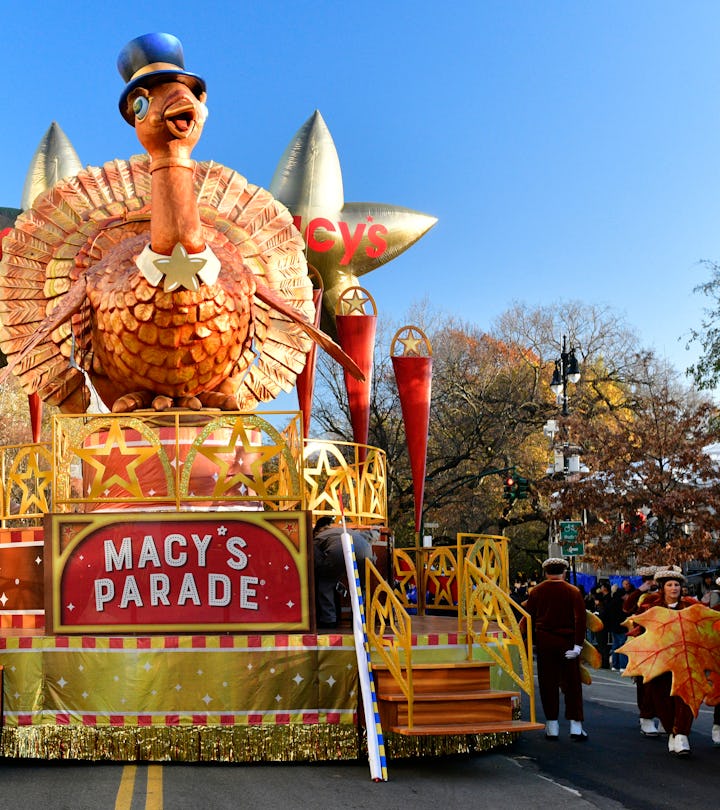 Eugene Gologursky/Getty Images Entertainment/Getty Images
How To Watch The Macy's Thanksgiving Day Parade In 2023
Plus, parade-themed arts & craft activities for kids inspired by the floats.
On Thanksgiving morning, you'll likely be busy cooking, prepping lots of appetizers, and getting the table set. Not to add more to your plate (pun intended) but you cannot forget to watch the Macy's Thanksgiving Day parade. From the moment the giant turkey comes out right up until Santa waves goodbye to the crowd, it's amazing to watch.
There will performances and lots of floats based on your kids' favorite shows (spoiler: Bluey is making an appearance again this year). Plus, the whole thing is so long that you can put it on for the kids to watch while you pop back to the kitchen. It's a time honored tradition for a reason, so here's everything you need to know to watch the Macy's Thanksgiving Day Parade in 2023.
How to watch the Macy's Thanksgiving Day Parade in 2023.
You can watch the Macy's Thanksgiving Day Parade live on NBC on Thanksgiving Day, if you aren't one of the lucky (and chilly) families who will be on the sidelines. The parade will be airing the morning of Nov. 23, from 8:30 a.m. to 12 p.m. EST. You can also watch it on NBC Peacock if you'd rather stream it, but keep in mind you still have to watch during the live airing as the parade is not available on any platform after that.
What new floats will debut at the 2023 Macy's Thanksgiving Day Parade?
There are six new floats debuting this year at the parade, including a Wonka inspired float and a Mutant Mayhem float inspired by the Teenage Mutant Ninja Turtle movie that came out this past summer. As for balloons, you can expect to see old favorites like Chase from Paw Patrol, Bluey, and Pikachu, as well as new ones like Leo, the lizard from Adam Sandler's new movie Leo coming out this month.
Who is performing at the 2023 Macy's Thanksgiving Day Parade?
As always, there will be performances, including The Big Apple Circus and marching bands from across the country. As for pop singers, Pentatonix, Jon Batiste, and Cher will be featured (more details will be available on their performances soon). Clown crews will also be in the parade — which could be exciting or terrifying depending on your kids' preferences.
Macy's has a number of parade-themed activities for kids.
The fun isn't limited to the 3.5 hours the parade is on; you can also do crafts and other activities inspired by the parade on Macy's website. You and your kid can create a float out of toothpicks and gumdrops, see which Thanksgiving vegetables will sink or float, and more. There are also some adorable coloring pages your child will love.
Whether you want to do these activities before Thanksgiving or on the day of, they will surely get your child excited for the holiday and to see all of the magnificent floats — and of course, Santa Claus.