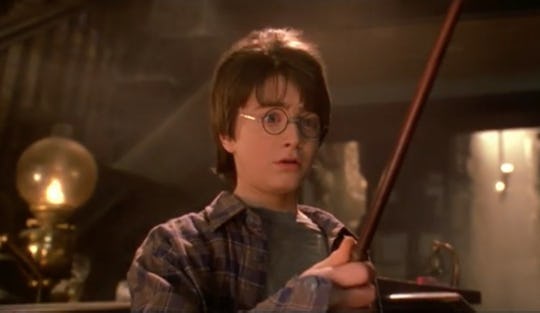 Warner Bros.
27 Instagram Captions For Harry Potter's Birthday Every Muggle Can Appreciate
For lifelong Potterheads who want to celebrate the special occasion.
Every year on July 31, the muggle world celebrates Harry Potter's birthday. Fans everywhere will wax nostalgic and share their favorite moments from J.K. Rowling's magical world of witchcraft and wizardry on social media. If you want to get in on the magical fun but need some inspiration, look no further for some Instagram captions for Harry Potter's birthday.
Maybe you want to celebrate Harry's 11th birthday, when he received his admission letter from Hogwarts and learned he was a wizard. Or perhaps you are still waiting for your Hogwarts letter, which must have been lost in the mail. If you are looking for some inspiring words, a quote from Headmaster Albus Dumbledore might be a great choice to mark this special day. Or if you are a little bit of a know-it-all (or a total bad*ss), Hermione Granger always knows the right way to share your birthday wishes. Of course, if you are feeling serious, who better to quote than Sirius Black? (If you don't mind a good cry at the same time, that is.)
Whether you are the biggest Harry Potter fan on the planet or are celebrating his birthday for the first time, here are some Insta captions for inspiration to get you started.
No matter how old you are, Harry Potter's birthday can feel like such a sweet milestone of a story that's dear to your heart. These Instagram captions are the perfect way to celebrate.
This article was originally published on