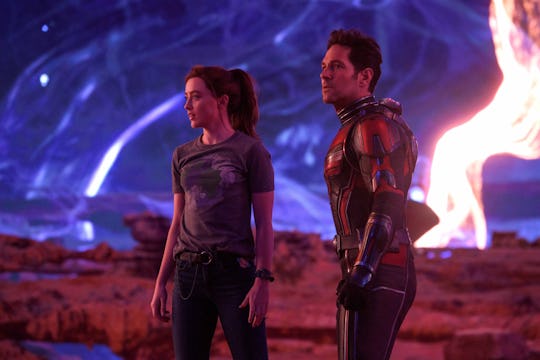 Marvel
What Parents Need To Know About Marvel's New Movie Ant-Man & The Wasp: Quantumania
Still funny but a little darker.
If you were worried that there wouldn't be another installment in the Marvel cinematic universe, rest assured there's a big one coming. Ant-Man and The Wasp: Quantumania is set to be released in February, the perfect month to see an action flick with the family. Or most of the family, since Ant-Man and The Wasp: Quantumania might not be totally appropriate for the youngest kids in the house. Here's what parents need to know.
Ant-Man and The Wasp: Quantumania is full of action and dark humor.
Ant-Man and The Wasp: Quantumania is the third installment in the Ant-Man franchise, starring the eternally youthful Paul Rudd in the role of Ant-Man/Scott Lang and Evangeline Lilly as The Wasp/Hope van Dyne. The first two installments were released in 2015 and 2018 respectively, so that's a long time to wait for the third movie. Expectations are high, and based on the synopsis it looks as though this film will be the darkest, and most action-packed, of the three movies. This time around, Scott and his daughter Cassie (Kathryn Newton) join Hope and her parents Hank Pym (Michael Douglas) and Janet van Dyne (Michelle Pfeiffer) in exploring the Quantum Realm and coming up against their greatest enemy, Kang the Conqueror (Jonathan Majors).
While Ant-Man has relied pretty heavily on humorous hi-jinx in the past two films, the trailer for Ant-Man and The Wasp: Quantumania shows a darker version than fans might be accustomed to. It starts off fairly gently, with Scott seen walking around town accepting accolades as everyone's favorite Avenger... Spider-Man. But then Cassie accidentally connects with the Quantum universe and the entire crew is dragged into a place where things are not always what they seem. Where Hope's mom seems to know more than she's letting on, and where Ant-Man might be up against more than he can handle.
So is Ant-Man and The Wasp: Quantumania appropriate for kids?
As of yet, Ant-Man and The Wasp: Quantumania has not been given an official rating, but the past two films were rated PG-13 for sci-fi violence and adventure, and that looks to be about what parents can expect from the newest movie as well. Not really the kind of movie the entire family can watch, but Common Sense Media notes that kids over the age of 12 years old should be fine as long as parents are comfortable with some light language and lots of action.
When does Ant-Man and The Wasp: Quantumania premiere?
The third Ant-Man movie will be out in theaters on Feb. 17, 2023. Until then, you and your older kids can watch the first two movies on Disney+ to catch up on that particular arm of the MCU.