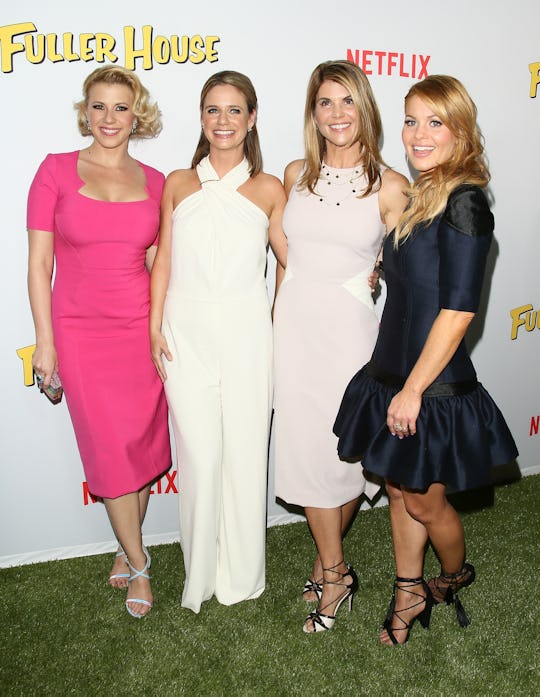 JB Lacroix/WireImage/Getty Images
Is 'Fuller House' For Kids? Parents Will Probably Have To Be The Judge Of That
The Fuller House comeback is set to hit Netflix later this month, and it's centered on America's favorite family once again — the Tanners. Of course, if you're asking yourself whether Fuller House is meant for kids, you have to ask yourself one other thing... was the original Full House even meant for them? The sequel series which comes more than 20 years after the original series ended has been lauded as a move back to "family TV." But should it be?
If you need more examples, think Fresh Prince of Bel-Air, Home Improvement, and of course, Full House. One has to stop and think when deciding whether to let your 7-year-old aboard the Tanner train. Because truly, despite what nostalgia ties to make us think, were any of the "family TV shows" of the '80s and '90s really kid-friendly?
First off, let's have a look at the overarching plot of Full House, and now, Fuller House. Be honest, both shows start off with some heavy material. In the original series, the story centered on a widowed father who turns to his best friend and brother-in-law to help raise daughters, D.J., Stephanie, and Michelle. Now, fast forward to Fuller House, and the show will launch with D.J., now an adult still played by Candace Cameron Bure, also as a widowed mother of three.
Ultimately, the show's premise is a bit much for any young child to digest, but thankfully, Netflix didn't go with its original plan (during which D.J. Tanner would begin the show as a widow pregnant with her third child). That said, death is still a hard topic for any child to come to terms with. (Maybe watch the first few episodes with your kids, in case they have questions.)
Needless to say, Fuller House is bound to be a hit with loyal fans who followed the original Tanner family and friends after school in the '80s and '90s, especially since most all of the original cast is making a showing on the revival (except for Mary-Kate and Ashley Olsen, sadly). As for the question of whether the show will be safe for your average school-kid... well, many parents don't have any problem with their kids watching old re-runs of the '80s classic Full House, and the revival's management said the new series will largely mirror the old favorite, so it's probably not so bad if they decide to tune in.
Ted Sarandos, chief content officer at Netflix, said at the start of filming for Fuller House last year,
It's a show that is very much in the spirit of the original. At the taping of the first episode this past week, when the cast shows up on stage the audience reacts immediately and the actors have fallen right back into the roles. It's very much in the same spirit but with a modern take on Full House.
With that in mind, if parents think Full House is a good fit for children, there is a chance the new Netflix revival will include the same wholesome life lessons that young ones and adults can appreciate.
When considering whether to allow your child to watch the upcoming Fuller House, just think back on your days as a elementary student running off the bus to catch the latest episode of the original Full House. There were moments for young children to enjoy (think Michelle, aka the Olsen twins, solving the life challenges of a toddler), as well as scenes adults could relate to (think Uncle Jesse and Aunt Becky arguments). If you weren't scarred for life 20 or so years ago, chances are your kids will be just fine this time around.