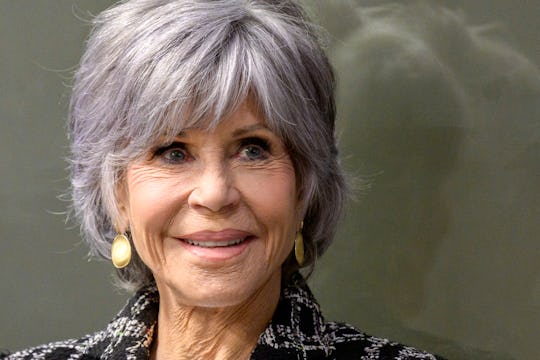 ANGELA WEISS/AFP/Getty Images
Jane Fonda Says She "Was Not The Kind Of Mother" She Wished She Could Be
The 85-year-old icon says she's "trying to show up now" for her three children.
Motherhood did not come easily to Jane Fonda. The 85-year-old icon is a mom to two daughters, Mary Williams and Vanessa Vadim, and one son Troy Garrity, between the ages of 49 and 55 years old. All these years after being in the thick of parenting, Fonda recently admitted that she simply "didn't know how to do" motherhood, but she's trying her best to figure it out now. And it's such a refreshingly honest, vulnerable admission, particularly considering the expectations society tends to put on mothers in general.
The 80 For Brady sat down for an interview with Chris Wallace on Friday to discuss, among other things, some "regrets" from her life, including her relationship with her children. "I was not the kind of mother that I wished that I had been to my children," Fonda told Wallace in the CNN interview. "I have great, great children — talented, smart. And I just didn't know how to do it."
Fonda went on to explain that she has tried her best to make up for lost time. "I've studied parenting, and I know what it's supposed to be now. I didn't know then. So I'm trying to show up now."
Fonda also opened up in her interview with Wallace about her difficult upbringing with her emotionally unavailable father Henry Fonda, who she said was "uncomfortable with emotion." The two did manage to come to something of an understanding in the final days before his death at 77 years old. "Before he died I was able to tell him that I loved him and forgave him for, you know, whatever didn't happen," she told Wallace. "And I hope that he would forgive me for not being a better daughter. I got to say that to him."
The Grace and Frankie star has been open about her struggles with finding her footing as a mom before. "I regret that I wasn't a better parent," she told Brie Larson in a 2017 interview for The Edit. "I didn't know how to do it. But you can learn, so I studied how to be a parent. It's never too late. I am trying to make up for what I didn't know before. When I die, I want my family to be around me. I want them to love me and I have to earn that. I'm still working at it."
This is, perhaps, the most important message Fonda could share with other moms. That you can keep on working on it, keep trying, keep letting your kids know you want to do better. It's simply never too late.