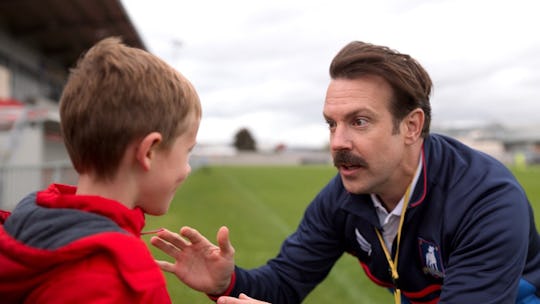 Jason Sudeikis Jokes He Went "Full Method" To Play Ted Lasso As A Dad In Season 3
Ted Lasso Season 3 premieres on March 15 on Apple TV+. Finally!
Ted Lasso has taught us so many lessons about sportsmanship, kindness, and finding your way since it first premiered on Apple TV+ in 2020. But for Ted Lasso himself, Jason Sudeikis says his own experience parenting his two kids, 8-year-old son Otis and 6-year-old daughter Daisy, helped prepare him for the show's newest season, which is said to focus on his character's role as a dad much more than previous seasons.
In a new interview with TODAY, Sudeikis sat down to talk about the third (and reportedly final) season of Ted Lasso, and of course the subject of his two kids, Otis and Daisy, who he shares with ex-partner Olivia Wilde, came into the conversation. It seems his own experience as a dad helped him play Ted Lasso. "It does help, yeah," he said on Wednesday when asked how being a dad himself helped him prepare for his role in Season 3. "I'm not learning about parenting on Wikipedia. You know, be like, 'OK, how's empathy change your life, change your DNA?' It's method. I went full method. My training."
There was a specific element from the first episode of Season 3 that really resonated with Sudeikis as a dad — when Ted's son Henry, who lives with his mom in the United States, has to say goodbye to his dad after spending six weeks with him in London. "Sometimes when you work for a living and you leave, you have to compartmentalize that. Ted's been able to do that to a certain degree, and put his family focus on his chosen family of the team and the people surrounding the team. Now the little guy (had) been part of that during the summer and he's like, 'Now what?'"
As a dad himself who often works far from his own kids — Ted Lasso is mostly filmed in the United Kingdom — Sudeikis can relate. And it's one of the reasons he gets his kids to watch Ted Lasso. "My kids watch it," he told TODAY. "So they know where dad goes and they know what he's doing."
Certainly his son Otis has picked up on one aspect of Ted Lasso: soccer. "My little boy is really taken with the sport, oddly enough the second we got back to the states," Sudeikis told Access Hollywood, referring to his return from London where he films the series. "And now the stuff we play on FIFA, he's all in."
We're all in too now that Season 3 of Ted Lasso is officially streaming on Apple TV+.