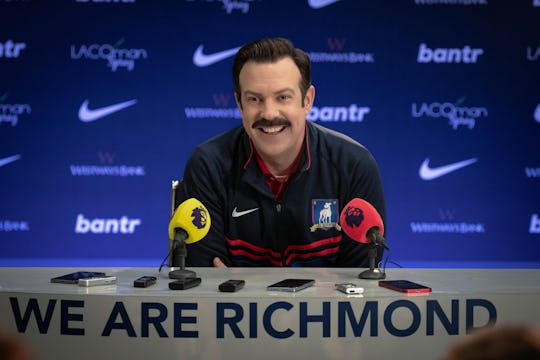 Apple TV+
Jason Sudeikis' Son Otis Has A New Hobby That Would Make Ted Lasso Proud
A new player for AFC Richmond?
If AFC Richmond is looking for any energetic young players to join their roster in the coming season, it looks like there might be a little 8-year-old who would be happy to be a part of the team. None other than the real Ted Lasso's son in fact. Jason Sudeikis' 8-year-old son Otis has gotten "really into" soccer recently, which feels so perfectly fitting considering his dad's hit series.
In an interview with Access Hollywood ahead of the Season 3 premiere of Apple TV+'s Ted Lasso, the dad of two opened up about his son's new fascination with playing soccer. "My little boy is really taken with the sport, oddly enough the second we got back to the states," Sudeikis said, referring to his return from London where he films the series. "And now the stuff we play on FIFA, he's all in."
While his son Otis might be into soccer these days, Sudeikis' 6-year-old daughter Daisy is apparently less than enthusiastic about it. Sudeikis, who shares both kids with ex-partner Olivia Wilde, told the outlet that Daisy "enjoys it but doesn't play it yet but Otis is getting into it big time."
Sudeikis' son's new interest in the sport of soccer does rather feel like art imitating life, of course. In Ted Lasso, Coach Lasso's own son comes for a visit to the UK and becomes invested in watching AFC Richmond play, a bond that seems to be mirrored with young Otis. I wonder if Otis offered his dad notes on the similarities between his own life and the series. According to his dad, both he and his sister have offered instruction in the past and "have a lot of notes, but it's mostly about structure," Sudeikis joked at the Emmys last year. "And length, believe it or not. There's a lot of 'can we shave some time here, Jason? Dad?'"
He's kidding, of course, although if Otis was somehow able to persuade his dad to keep making more Ted Lasso after Season 3 we would be forever grateful. As it stands right now, when the third season of the series premieres on March 15, it will be the last. And we definitely have some notes about that.