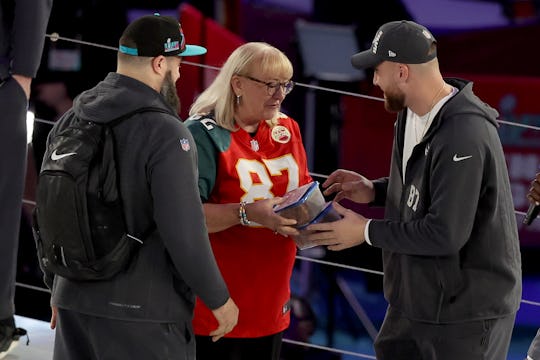 Christian Petersen/Getty Images Sport/Getty Images
Jason & Travis Kelce's Mom Hand-Delivered Cookies Before The Super Bowl
Guaranteed she wants those tupperware containers back.
Super Bowl Sunday was a very big deal to one woman in particular, and I'm not even talking about Rihanna. Donna Kelce had not one but two sons playing in Super Bowl LVII, and what's more, Philadelphia Eagles center Jason and Kansas City Chiefs tight end Travis Kelce were playing on opposite teams. What's a mom to do in such a potentially fraught situation? Cookies. Bake cookies. And deliver them in a two tupperware containers at the very same time. I bet she counted those cookies out to make sure they were equal too, because Donna Kelce is truly the queen of treating her sons equally on every level.
Kelce arrived at the Super Bowl in Phoenix, Arizona on Sunday wearing a one-of-a-kind game day outfit in honor of her sons making history as the first set of brothers to play against each other in the biggest football game of the year. A custom football jersey featuring both sons' team colors and numbers, a clear handbag also featuring both of their numbers and team colors, and of course the piece de resistance, two containers filled with cookies to fuel her boys.
Christian Petersen/Getty Images Sport/Getty Images
Christian Petersen/Getty Images Sport/Getty Images
Both of her sons looked so happy to receive their cookies for the game, and one can only assume she reminded them to share with their teammates. Certainly Donna Kelce has been the most incredible mom throughout this entire football season leading up to the game that has been dubbed #Kelcebowl by fans. In interviews before the game, she refused to choose sides, saying she was simply rooting for "the offense" when speaking with TODAY, opening up about watching her boys grow up to become such massive talents. "You see them as kids and you wonder how they're going to relate to other children and you don't really know," she told TODAY on Feb. 1. "They're the best in their city, the best maybe in their state, and you don't know how that's going to relate to the rest of the country, you just have no idea."
She certainly had no idea they would end up playing against each other at the Super Bowl. Or that she would have to find a way to make time for each of them after the game. To run to one son who played for the winning team, in this case congratulating son Travis as the Kansas City Chiefs game took home the trophy.
After hugging son Travis, she sought out a somber looking Jason Kelce, touched him on the arm, and gave him a shoulder to cry on. Whispered in his ear and hugged him hard. And boy could you tell that he just needed his mom in that moment.
Going in to the Super Bowl, Donna Kelce knew that one son would end the day victorious as the other walked off the field without the trophy. And she prepared for it. Was there for her sons.
And most importantly of all, made sure they both had cookies to take home if nothing else. But they better give back those tupperware containers.