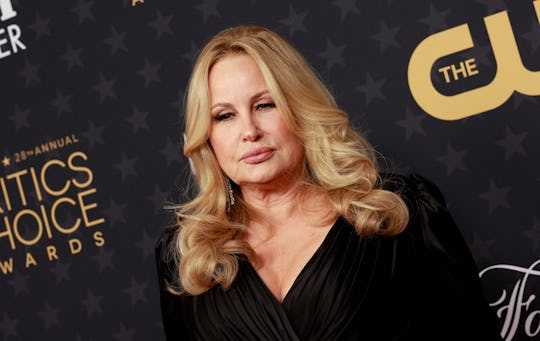 MICHAEL TRAN/AFP/Getty Images
Jennifer Coolidge Shares Why She Didn't Have Kids, But Would Be A Great Stepmom
"Maybe if I had kids, I would've had to grow up."
Jennifer Coolidge recently opened up about the fact that she doesn't have kids. Of course, no one ever has to offer up an explanation about being child-free, but the White Lotus star didn't appear to have any trouble opening up about the topic. In an interview with British GQ, Coolidge admitted that she didn't want kids because she said she's "sort of a child" herself. Just when we thought we couldn't possibly like her any more.
In her profile for British GQ, Coolidge complained that she was getting "bored" in Los Angeles. A city she might enjoy more "if I had kids or something." She went on to explain that her friends had been encouraging her to adopt a child at 61, and that's a hard no from her.
"I'm very, very immature," she told the magazine. "I think that has kept me from having children because I'm sort of a child. Maybe if I had kids, I would've had to have grown up."
That being said, Coolidge is not ruling out the possible role of stepmother. Good news for any potential suitors for the single Golden Globe winner.
Coolidge definitely gives off a perpetually young-at-heart vibe, something she could well have learned from her own dad. The star opened up about how her own father picked her up from school when she was a little girl to take her to a film festival during her SAG Award speech. "He got me out of my first grade class to do it," she explained at the time. "And I swear to god, that seeing Charlie Chaplin for the first time, and having that experience, it's my love of film. It's my love of actors. All that came from my first grade."
Beyond her self-identified child-like personality, Coolidge also admitted that her previous dating history had her thinking twice about motherhood. "I've never had, like, a laid-back boyfriend that was just full of joy, you know?" she told GQ. "Like, someone who laughs at all your shortcomings. That's never who I choose for myself."
Who knows what the future will bring for Coolidge? After her career-making turn as Tanya McQuoid in the first two seasons of The White Lotus, the actress is looking forward to taking on new roles to meet friends. And potentially find romance.
As long as she never loses that child-like charm, we're just happy to see what she does next.