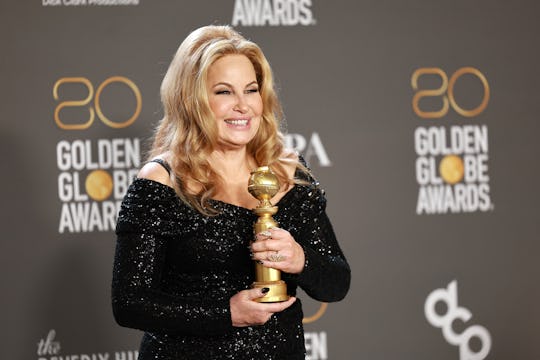 Matt Winkelmeyer/FilmMagic/Getty Images
Jennifer Coolidge Is Still Inspiring Us All... Even After The Gays Tried To Murder Her
Tanya McQuoid is gone, but Jennifer Coolidge lives on.
When Jennifer Coolidge won her much-deserved Golden Globe for best supporting actress in a limited series, the whole world leaned in to hear what she would say in her acceptance speech. Coolidge always has something interesting and unexpected and generally hilarious to say, this we know from watching her career for the past few decades. But this speech... boy did it ever take the cake. Just ask literally everyone on social media who wants to watch Coolidge's speech at the Golden Globes on repeat. She is part motivational speaker, part truth-teller, and even manages to sneak in a few curse words while making The White Lotus creator/ good pal Mike White cry. This speech deserves a Golden Globe of its own.
Coolidge opened up her speech by thanking the "five people" in the room who kept her career going with "little jobs" through the years including Reese Witherspoon for Legally Blonde, Ryan Murphy, Michael Patrick King, and "like five different sequels of American Pie." We should be thanking these people too, because they kept her going when her dreams felt like they were going nowhere.
"I just want you all to know that I had such big dreams and expectations as a younger person," Coolidge, who was celebrating her first Golden Globe win at 61 years old, told the cheering audience. "But what happens is they get sort of fizzled by life and whatever."
"I thought I was going to be Queen of Monaco even though someone else did it," Coolidge clarified. "But I had these giant ideas. And then you get older and, oh, sh*t is going to happen. And, Mike White, you have given me hope. You've given me a new beginning. Even if this is the end, because you did kill me off, but even if this is the end, you changed my life in a million different ways. My neighbors are speaking to me and things like that. I was never invited to one party on my hill, and now everyone's inviting me!"
The actress went on to thank White for being "one of the greatest people ever," especially since he "gives me so much excitement to be — you make people want to live longer, and I didn't," referencing the shocking death of her character Tanya McQuoid in the second season of The White Lotus.
Coolidge's positive attitude was infectious, earning her a standing ovation both at the Golden Globes and on Twitter. One person noted that "the golden globes can (& should) be just 3 hours of Jennifer Coolidge talking."
Another person offered praise for Coolidge's singular way of delivering a line, pointing out "Jennifer Coolidge always talks like she's trying to tell us a secret at a loud club."
If Coolidge is looking for a new gig now that her term at The White Lotus has ended, one Twitter user has an idea; "White House press conferences."
If you thought Coolidge was done delivering after she gave her speech, you're wrong. When asked backstage what her "ultimate dream role" might be, she thought about it and responded, "I've always wanted to play a dolphin."
Absolute perfection.