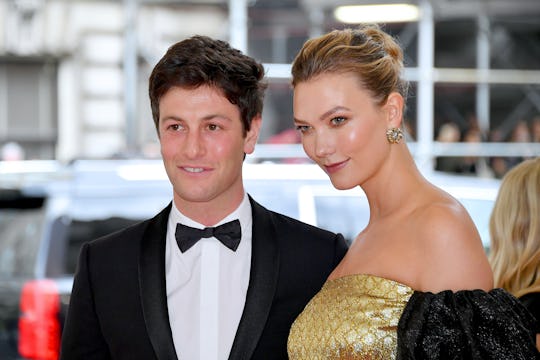 Dia Dipasupil/FilmMagic/Getty Images
Karlie Kloss & Josh Kushner Have Welcomed Their First Child Together
Nearly four months after she confirmed that she's expecting her first child with her husband, businessman Josh Kushner, the new dad announced that Karlie Kloss gave birth. Over the weekend, Kushner made the announcement on Instagram with a sweet post, showing a peek of their newborn's tiny hand and head full of dark hair.
"Welcome to the world," Kushner captioned the photo of his newborn wearing a blue hat and covered in a hospital blanket, tagging Kloss in the post. The new parents have not revealed what they named their little one.
People was the first to report the news of Kloss' pregnancy in late October. "Karlie is overjoyed to be expecting her first child in 2021," a source close to the model told the magazine at the time. "She will be the most amazing mother."
Kloss kept most of her pregnancy private, choosing to only post a few photos of her bump in the months leading up to her baby's due date. In fact, the last time she posted a photo on Instagram was in January to congratulate President Joe Biden and Vice President Kamala Harris on their historic win. Beyond celebrating the election, the last picture she shared of her bump on Instagram on Dec. 31 touched on how excited she was to become a mom. "Here is to new beginnings in 2021," she wrote. New beginnings, indeed!
Baby's First Picture
Judging from the first photo, baby Kushner seems to have a head full of adorable, dark hair.
Her Pregnancy Was Full Of "Salty" Cravings
In a Dec. 28 interview with WSJ Magazine, the supermodel revealed that she has been loving "everything salty and crunchy" throughout the duration of her first pregnancy, according to Us Weekly. But this isn't anything new for her, since she told the magazine that she has always had "bizarre" cravings, even outside of pregnancy.
Pregnancy Affected Her Energy Levels
Kloss told WSJ Magazine that her energy was a little off during her pregnancy. "I normally love running, but I have to say I'm out of breath these days just talking or going up a flight of stairs," she said, according to Us Weekly.
While she didn't run a whole bunch, she was rocking activewear like plenty of moms-to-be. Kloss showed off her bare pregnancy bump while modeling clothes from her new collaboration with Adidas in an Instagram Reel with model-mom Ashley Graham in mid-December.
She Hinted At Her Due Date Months Ago
In a pregnancy-friendly workout video posted to Graham's channel on Dec. 23, Kloss revealed that she "just started" her third trimester. This means she has just a few weeks left in her pregnancy to go and could give birth sometime in February or March.
Her First Bump Shot
On Nov. 17, Kloss revealed her pregnancy bump for the first time on Instagram. In the artistically filtered video, Kloss relaxed in a bra and sweatpants while panning down to her belly. "Good morning," she says to the camera before blowing a kiss. "Hello baby!"
Kloss' famous friends and followers took to the comments to share their excitement about the pregnancy. "Aw!" Graham commented. "Good morning babyyyyyyyy."
Kloss' famous friends and followers took to the comments to share their excitement about the pregnancy. "Aw!" model and new mom Ashley Graham, commented. "Good morning babyyyyyyyy."
"Congrats Karlie!" model Emily Ratajkowski, who is also recently welcomed her first child, added.
Kloss and Kushner started dating in 2012 and have been married since 2018, according to Us Weekly. Kloss often posts cute photos of them together on Instagram with romantic captions. For example, in an Instagram post announcing their engagement in 2018, she wrote, "Josh, you're my best friend and soulmate. I can't wait for forever together." As that little saying goes, first comes love, then comes marriage, then comes baby in a baby carriage.
This article was originally published on