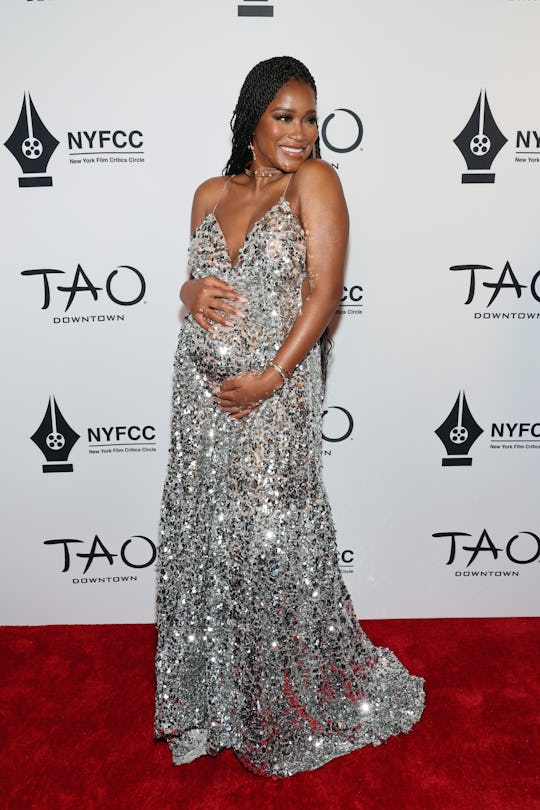 Dia Dipasupil/Getty Images Entertainment/Getty Images
Keke Palmer Credits Her Pregnancy To Clearing Up Her Adult Acne
"I'm about to be pregnant for the rest of my life."
Keke Palmer has unlocked the secret to clearing up her acne and it comes with a big life choice: Just get knocked up! On Thursday, the actress posted a video on Instagram to share how her pregnancy with her first child has cured the acne on her face.
"I know you can't see right now because I got a face full of makeup on, but if you really get into it, I want you to see that everything right here is extremely flat," Palmer, who is expecting her first child with her boyfriend, Darius Daulton, says in the video. "There's no more bumps, there's no more of the raise."
She added, "So I'm here to let ya'll know that I found the secret to clearing up my acne. And guess what it is: You need to get knocked up. Period-point-blank-period. The reason my skin is clear is because I'm pregnant with a baby right now."
Palmer stressed that her face never laid as flat as it does now with makeup. "Call me Keke Wyatt," she joked, referring to the gospel singer, who has nine kids. "Because I'm about to be pregnant for the rest of my life."
Fellow actress and mom Naturi Naughton commented under her post, "Pregnancy will get you right!"
Other celebrity moms started to share their own pregnancy beauty results. Like Riverdale star Vanessa Morgan, who wrote, "When I was pregnant had the best skin I've ever had. Not even one pimple till like 7 months postpartum."
But influencer Jayda Cheaves humorously opted out of the pregnancy remedy and wrote, "Oh no baby you're on ya own. 😂😂 I'll keep the pimples."
Palmer has been candid about her acne issues over the years. In 2020, she was diagnosed with polycystic ovary syndrome (PCOS), which is caused by a hormonal imbalance and can affect women during their reproductive years, according to Mayo Clinic. At one point, the Nope actress said it was so bad people offered to pay her to get the condition fixed.
Last August, she posted an Instagram video about her skin struggles. "I was just thinking about the fact that plastic surgeons are amazing, OK? They can give you a boob job, above the muscle, under the muscle, liposuction, tummy tuck, BBL, they can even implant muscles, I mean, the list goes on," she said. "But they cannot figure out how to clear up somebody's skin? All these years and all these inventions, you can't figure out how to take the beautiful skin from my a** and put it on my face?"
Fast-forward a few months, the acne is nonexistent. Palmer's new glow was recently on display at the New York Film Critics Circle, where she won the award for Best Supporting Actress.
But what the pregnancy glow gives, it sometimes (and most likely) will be taken away. According to the American Pregnancy Association, pregnancy glow is caused by the changes and increase of hormones during pregnancy, which ultimately go away after the baby is born. So don't toss your skincare products, just keep them under the sink for now.