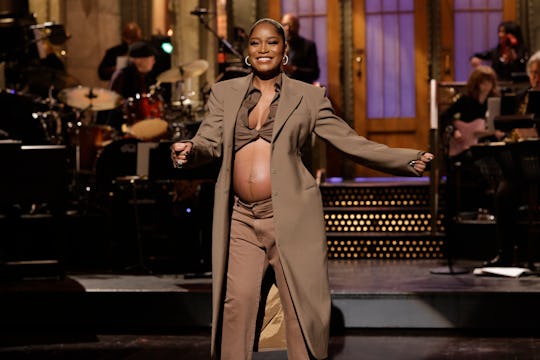 NBC/NBCUniversal/Getty Images
Keke Palmer Revealed She Gave Birth To An Adorable Baby Boy & His Powerful Name
His name is "giving I marched with Martin," according to the proud new mom.
Keke Palmer is officially a mom! She and boyfriend Darius Jackson welcomed their first child, a son, on Feb. 26, and they are both so excited to have "made a someone" together. A that little someone has an incredible name.
Palmer revealed on Tuesday that she and Jackson had welcomed their son 48 hours earlier. "Hey Son!!!!" Palmer wrote on Instagram on a slideshow of her and Jackson's "48 hours of being parents."
"Darius always made me playlists when we first started dating, 'Someone' by El Debarge was a favorite," the Nope actress shared in her post. "We became each other's someone and made a someone, look at God! 😆"
After noting that her baby boy loves "Rolling Ray," Palmer went on to point out that her baby had been "born during Black History Month, with a name to match!" Her son's name? Leodis Andrellton Jackson. "Welcome to the world baby Leo," the new mom wrote.
Palmer also shared photo of her sweet baby boy all cuddled up with an elephant stuffie, and he already suits his name so well.
Fans truly could not get over her baby boy's incredible name, with many agreeing that her son's name sounded as though it was giving off a civil rights leader vibe. Even Palmer agreed when someone pointed out that her son's name "sounds like it lead a civil rights march." The proud mom tweeted, "It's giving I marched with Martin [Luther King Jr.] purrr."
Another fan user has high expectations for baby Leodis, writing on Twitter, "Can't wait for your son to change the world with a name like that." Interestingly enough, the name Leodis has Celtic roots and refers to people "who live by the fast-flowing river." The name has been around for centuries but has never made the top 1,000 list, but I suspect that's all about to change.
Now that little Leodis has arrived, Palmer and Jackson can set about finding their way as a new family of three. Or four, technically, if you include Palmer's cat Jackie, who got suspiciously cuddly during her pregnancy. I wonder what she will make of little Leodis. Time will tell.