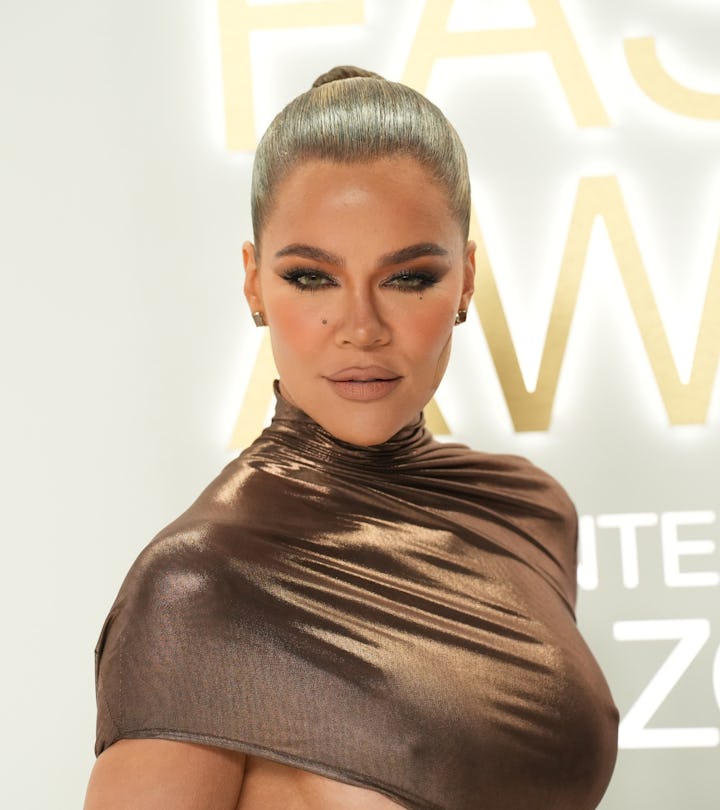 Sean Zanni/Patrick McMullan/Getty Images
Khloe Kardashian Is Getting Emotional With Adorable New Pics Of Kids True & Tate
(A.K.A. "Baby Tristan" and "Baby Rob")
Khloé Kardashian is feeling emotional these days about her kids. Not only is 5-year-old daughter True heading off to kindergarten, but 1-year-old son Tate is growing up so fast we cannot believe it. And he looks a whole lot like one member of the Kardashian family in particular.
The Good American designer recently took to Instagram to share some photos of daughter True and son Tate, both of whom she shares with ex-boyfriend Tristan Thompson. On Sunday she shared a family selfie, with True smiling proudly as she hugged her baby brother and Khloé posing with a little kissing face. As for Tate, whom Kardashian welcomed last August via surrogate, he looks typically curious about the camera. (Actually sort of looks like he's about two seconds away from grabbing for it, which tracks for a 1-year-old.) The second photo saw Khloé cuddling her two kids with a contented smile on her face as Tate continued to look ready to grab hold of that camera.
The Kardashians star captioned the two adorable family photos "Mommy's cubs" with some bear emojis, and we really cannot handle how cute they all look together.
Tate and True's aunt Kim Kardashian commented on the adorable post, "I just can't handle it!!!!! You with Tristan Jr & Rob Jr." While she didn't specifically identify which child she meant in the post, we think it's safe to say that True looks a lot like dad Tristan while baby Tate looks like Uncle Rob Kardashian as a baby. In fact, Kim is not the first member of the family to comment on Tate's resemblance to his uncle Rob. Kris "Lovey" Jenner wished her grandson a happy birthday with a series of photos and a message that read in part, "I'm honestly in awe of how you look exactly like uncle Rob. It's wild and I love it!!!!"
As everyone continues to marvel at Rob Kardashian's look-alike nephew, Khloé is over here getting emotional about another big milestone: True starting kindergarten. Days after sharing her family phottos, she posted another a series of photos of True posing in front of a giant balloon arch (complete with inflatable pencils!) and a big piece of lined paper with the words "First Day of Kindergarten" with the caption, "For anyone wondering, no I'm not ok! Next it will be prom."
But while it might seem like it goes by in a blink, fortunately for Khloé, she has loads of years in between kindergarten and prom... and two sweet little ones to watch grow.