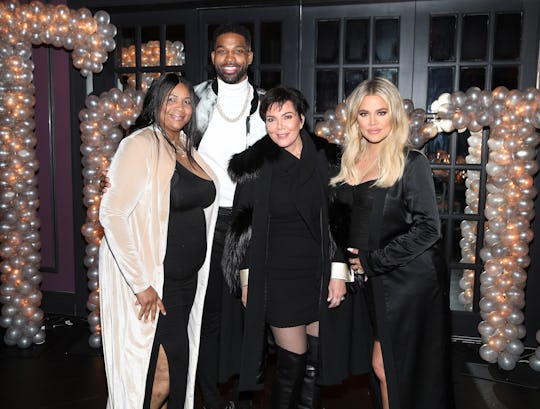 Jerritt Clark/Getty Images Entertainment/Getty Images
Khloé Kardashian Promises Tristan Thompson's Late Mom Her Boys Will Be "OK"
"I know you never wanted to leave your boys."
Khloé Kardashian's history with Tristan Thompson is a complicated one. They've welcomed their two children together, gone through very public breakups and even more public cheating scandals. But privately, they have been part of each other's lives and families for several years. And when Thompson unexpectedly lost his mom, Andrea, earlier this month, Kardashian was joined by her mom Kris Jenner and sister Kim Kardashian at the funeral. Not just to support Thompson, but because Kardashian herself had a relationship with Andrea. A relationship she paid tribute to in an emotional Instagram post, where she promised to take care of her son Amari. Because this was, after all, the grandmother of her two children, 4-year-old True and her baby boy born just last year.
"I have been avoiding this…. Avoiding accepting this is real. I have so much to say but nothing at all…. I have so many emotions and still I feel numb," Kardashian's Instagram post began. "Life can be brutally unfair at times and This has been one of the toughest times in so many of our lives. But at the same time, I feel blessed that I am lucky to have had someone that makes saying goodbye so incredibly difficult. So difficult that I'm choosing not to say goodbye for good because that is something I cannot fathom."
Kardashian, who lost her own father, Robert Kardashian, when she was a child, went on to promise Thompson's late mother that her youngest son Amari, who suffers from epileptic seizures, would be taken care of in her absence. "I know you never wanted to leave your boys. They are your entire world," she continued. "They will learn to live with the hole in their hearts because they are warriors just like their warrior mommy. Just know, I promise you, Amari will be perfectly ok. We will all look after him, help him and protect him. Your boys will be ok because they have their guardian Angel by their side."
Kris Jenner also paid tribute to her fellow grandmother, calling her "the most amazing, dedicated, devoted, and selfless mom and such a loving, kind, and fabulous grandmother" in an Instagram tribute.
Andrea Thompson died of a sudden heart attack in Toronto on Jan. 5, according to Page Six, leaving behind four sons: Tristan, Dishawn, Daniel, and Amari. She was clearly adored by everyone who knew her.