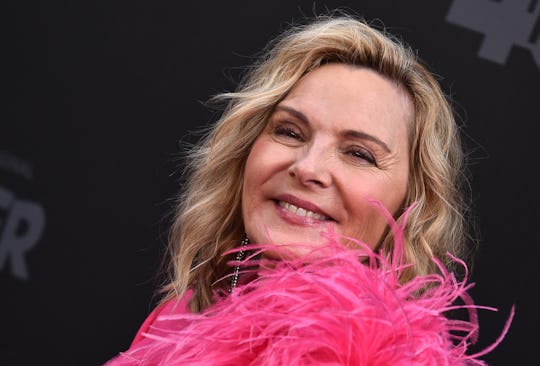 LISA O'CONNOR/AFP/Getty Images
Kim Cattrall's Cameo On AJLT Was A Perfect New York Afternoon
After reprising her role as Samantha Jones, Cattrall enjoyed a "great martini."
Season 2 of And Just Like That... on Max has just gotten underway but it's already bringing us some lovely gifts. A glamorous Met Ball montage, Carrie trying her hand at some casual dating. Tony Danza. But one of the most hotly anticipated moments of Season 2, the greatest gift for many fans, is a cameo from Samantha Jones after her absence throughout the first season of the reboot. And after years of saying she was done with the character, Kim Cattrall admitted that stepping back into her role as Samantha in a short scene of And Just Like That... was "like dipping my toe back in time." Because everyone loves Samantha, how could you not?
Cattrall and the rest of the principal cast on the Sex and the City sequel confirmed earlier this month that Samantha would appear in a cameo in the second season. Fans will remember that Samantha was absent throughout the first season, only appearing via text messages with Carrie. The actress has said several times that she would not be returning as Samantha, so what changed her mind?
"It's very interesting to get a call from the head of HBO saying, 'What can we do?' and I went, 'Hmm, Let me get creative,'" she told The View on Wednesday. "And one of those things was to get Pat Field [costume designer for Sex and the City] back because I just thought that if I'm going to come back, I gotta come back with that Samantha style. I gotta push it. And we did."
That's the power of Samantha Jones, folks.
Her cameo turned out to be just as fun for her as it will be for the fans to see. Cattrall told TODAY in an interview airing Friday that her cameo is only a "short scene," but her longtime friend Pat Field, who is the costume designer for Emily In Paris, returned to style her in a "great friggin outfit for the moment" she returns to And Just Like That... An outfit the two women found together after heading out for a shopping spree at Bergdorf Goodman. "It felt like dipping my toe back in time and having a wonderful afternoon, and then a great martini," Cattrall said of her time filming for the series.
While this may Cattrall's only cameo in the reboot, she also told TODAY, "I don't think I'll ever say goodbye to Samantha."
Martinis, shopping, and friends in New York City. Truly the most on brand day for Samantha's cameo on And Just Like That...