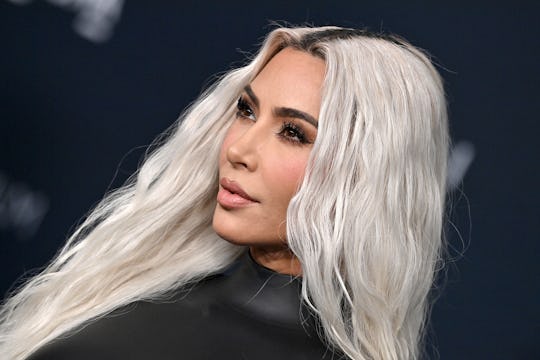 Axelle/Bauer-Griffin/FilmMagic/Getty Images
Kim Kardashian Now Owns A Piece Of Jewelry From Princess Diana's Collection
The huge statement piece cost her over $200,000.
The Kardashians have been referred to as the closest thing America has to a royal family more than once, and it looks like at least one member of the family might be taking that tongue-in-cheek nickname seriously. Kim Kardashian recently purchased a piece of jewelry from Princess Diana's collection — the Attallah Cross necklace, a huge statement piece the late Princess of Wales wore several times to charity events.
Kardashian was one of four people to bid on the Attallah Cross at Sotheby's in London on Wednesday as part of their Royal and Noble sale. She won the necklace in five minutes, according to the BBC. The Attallah Cross was created by luxury jewelry designer Garrard in the '20s and features a cross made of large amethyst stones framed by 5.2 carat diamonds. Princess Diana wore the Attallah Cross, which was loaned to her on several occasions by friend Naim Attallah, to the charity gala for Birthright, now called Wellbeing of Women, back in 1987.
The Skims mogul paid £163,800, or around $202,000, for the necklace. Considerably higher than the original estimate, in fact.
Kim Kardashian is collecting celebrity artifacts.James Devaney/GC Images/Getty Images
Kim Kardashian is collecting celebrity artifacts.Tim Graham/Tim Graham Photo Library/Getty Images
Kardashian, who has been co-parenting her four children with ex-husband Kanye West since their very public separation in 2021, did not share a statement about her new piece of jewelry. But a statement from Sotheby's about the provenance of Princess Diana's fondness for this piece offered insight into this particular piece that could explain its significance to Kardashian. "Princess Diana's confidence grew during the 1980s as she became known for increasingly bold fashion choices, moving away from the more romantic and subdued style she had hitherto favoured," said Sotheby's in the release. "The fact that she is known to have worn what is now known as the Attallah Cross on several times — mostly to private occasions, substantiates this evolution."
Much like Princess Diana, Kardashian struggled with an incredibly public, acrimonious separation and had to find her own way through it. She also saw her sense of style similarly controlled, not by the royal family but by West himself. Perhaps this piece of jewelry has special significance for that very reason.
Or perhaps she simply wanted to add to her impressive collection of celebrity artifacts. Kardashian does have a penchant for collecting celebrity artifacts, even wearing Marilyn Monroe's gold dress to the Met Gala in 2022.
Kim Kardashian is American royalty. And she's got the amethyst cross to prove it.