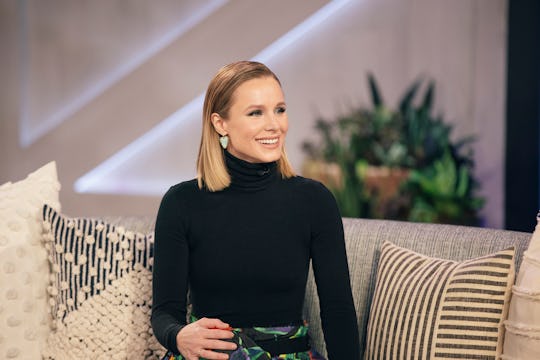 NBC/NBCUniversal/Getty Images
Kristen Bell Says Her Daughters Have Ordered Non-Alcoholic Beer In Restaurants
"It sounds insane if you don't have context."
Kristen Bell's two daughters are absolute little originals, and she celebrates that unique way of looking at the world every step of the way. For instance, The Good Place actress recently revealed, while also acknowledging that she might face judgement from other parents, that her children like to partake in a delicious non-alcoholic beer every now and again.
In a recent interview with Kelly Clarkson, Bell, who shares 9-year-old daughter Lincoln and 7-year-old daughter Delta with husband Dax Shepard, talked about her daughters' less-than-orthodox choice in beverages. "My kids have ordered non-alcoholic beers at restaurants before, which sounds insane if you don't know the context," Bell said on Clarkson's talk show.
The context being that Shepard is a "recovering addict," who introduced the beverage in the most innocent of ways. "He likes non-alcoholic beer, so he'd pop one open, he'd have [our oldest daughter] on his chest, and we'd walk and look at the sunset," Bell explained, adding that Lincoln ended up developing an emotional attachment to non-alcoholic beer. "As a baby, she was pawing at it, and sometimes she'd suck the rim of it. So I think it feels to her like something special, something daddy, something family."
This isn't the first time Bell has outed her daughters for their love of non-alcoholic beer. Back in 2020, when Bell (like so many parents) was trying to deal with homeschooling, she admitted that her daughters were keeping up their energy in a morning Zoom class with a little non-alcoholic beer. "I sent them in on their Zooms and they have 15 minute breaks where they're allowed to jump around and grab a snack and wiggle it out, and I walk in to check on them at 9:30 and both of them are drinking an O'Doul's on their Zooms," she explained during an interview on the Say Yes! With Carla Hall podcast at the time.
"They're both just sipping their Doulies. And I'm like, 'What must these other parents and teachers think of me?'" Bell continued. "And then I remind myself, 'You don't care, Kristen. They can pretend like you're doing something wrong.' I would argue that I'm not, because it's non-alcoholic."
Three years later, her girls are now apparently lifelong fans of their non-alcoholic beer and in no rush to change that. Nor is their mother. "You can judge me if you want," Bell told Clarkson. "That's your problem."