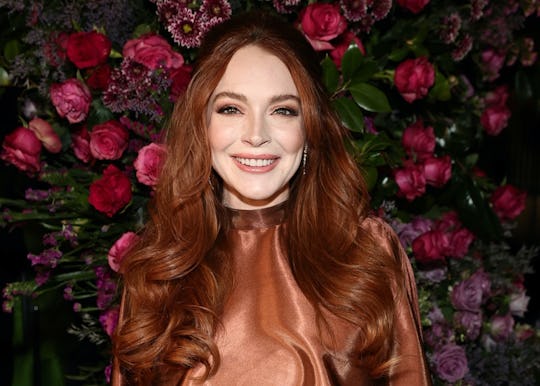 New York Daily News/Tribune News Service/Getty Images
Lindsay Lohan Has Given Birth To Her First Baby
The 37-year-old actress and her husband Bader Shammas are now the proud parents of a little boy.
She's not a regular mom, she's officially a cool mom. About four months after announcing her pregnancy, Lindsay Lohan has given birth to her first child, a baby boy, with her husband Bader Shammas.
A rep for Lohan told Page Six in a statement on Monday that "the family is over the moon in love" with their baby boy, who was born in Dubai. The new parents also revealed their son's name is Luai.
Luai is a Muslim name that has several meanings including flag, strong, and steady. The name of Arabic origin has also been said to mean "son of a lion" and "legend."
Lohan and Shammas did not reveal Luai's exact birth date, but a rep for The Parent Trap actress told People that their baby boy is "beautiful" and "healthy."
In an interview with Allure last month, Lohan revealed that she found out she was about five and a half weeks pregnant with her first child when she returned to Dubai, where the couple lives, after doing press for her Netflix movie Falling for Christmas in New York City. She told the magazine her pregnancy announcement to her husband "was so unexciting." She recalled, "I walked into the room, I threw the test down. I was like, 'Guess what?' He goes, 'We are?'"
Lohan eventually announced her pregnancy to the world with a sweet and simple Instagram post in March. "We are blessed and excited!" the Mean Girls actress captioned a photo of a white onesie with "coming soon..." written across the front.
In the same interview with Allure, Lohan also talked about all the emotions she was feeling. "I can't wait to see what the feeling is and what it's like to just be a mom," Lohan said. Now that time is officially here and Lohan has all sorts of celeb mom friends she can lean on for advice, including her Freaky Friday co-star Jamie Lee Curtis.