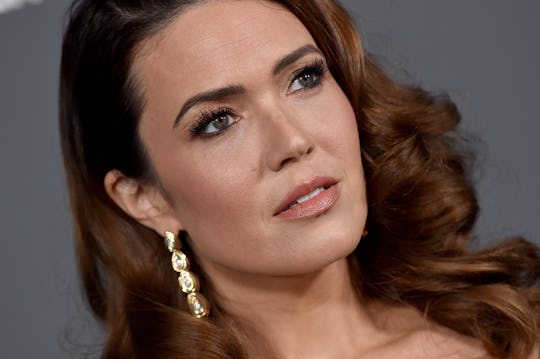 Axelle/Bauer-Griffin/FilmMagic/Getty Images
Mandy Moore Reveals Her Son Has A Rare Skin Condition After Developing A "Crazy Rash"
"Kids are resilient and as long as he's smiling through it, we are a-okay."
After a visit to urgent care, the pediatrician, the dermatologist, and then a pediatric dermatologist, Mandy Moore finally has some answers about a "crazy rash" her toddler developed recently. The This Is Us actress shared on Instagram that her 2-year-old son August "Gus" Harrison had been diagnosed with a rare childhood skin condition called Gianotti-Crosti syndrome.
On July 28, Moore, who shares Gus and 9-month-old son Oscar "Ozzie" Bennett with her husband Taylor Goldsmith, shared a photo of her son's rash, which she and Goldsmith thought could be an allergic reaction, an eczema flare-up, or even poison oak.
"This sweet boy woke up with a crazy rash on Saturday am," Moore wrote on her Instagram Story. "We thought maybe an excema [sic] flare? Poison oak? Allergy. We tried to deduce what it could be and did anything to help him find relief from the itch. Went to urgent care. Pediatrician. Dermatologist. Pediatric dermatologist. All the while, he smiles and laughs and carries on with his day like the rockstar he is."
In another post on her Story, Moore shared that Gus had been diagnosed with Gianotti-Crosti syndrome, a rare childhood skin condition that causes an itchy rash of blisters on the legs, buttocks, and arms. The rash usually follows a viral infection and can last anywhere from 10 days to several weeks and typically affects children between 9 months to 9 years old, according to the National Organization for Rare Disorders.
"Turns out it's a viral childhood rash that just spontaneously appears called Gianotti-Crosti syndrome," Moore wrote over a photo of the rash on her son's legs. "It sometimes accompanies a cold but not in Gus's case. It's all over his legs and feet (ouch) and the backs of his arms but nowhere else. There's nothing to do but a steroid cream and Benadryl at night. And it could last 6-8 weeks. Ooooof. Anyone else ever experience this??"
"All of that is to say, this parenting thing is weird and hard and sometimes you feel so helpless (and yes I'm ever so grateful it's only an itchy skin condition)," the mom of two wrote over another post. "Kids are resilient and as long as he's smiling through it, we are a-okay."
On Monday, a few days after Gus' diagnosis, Moore shared an update on her Instagram Story that Gus has been a "champ" during the whole ordeal. "Someone may have a crazy rash but he's still a champ!!" she wrote over a photo of Gus smiling and eating oatmeal in his PJs.
The American Osteopathic College of Dermatology notes that there is currently no treatment for Gianotti-Crosti syndrome and, like Moore said, it can take weeks to go away on its own. Thankfully for Gus, it seems like he's doing pretty OK, as long as he's got his lollipops and oatmeal.