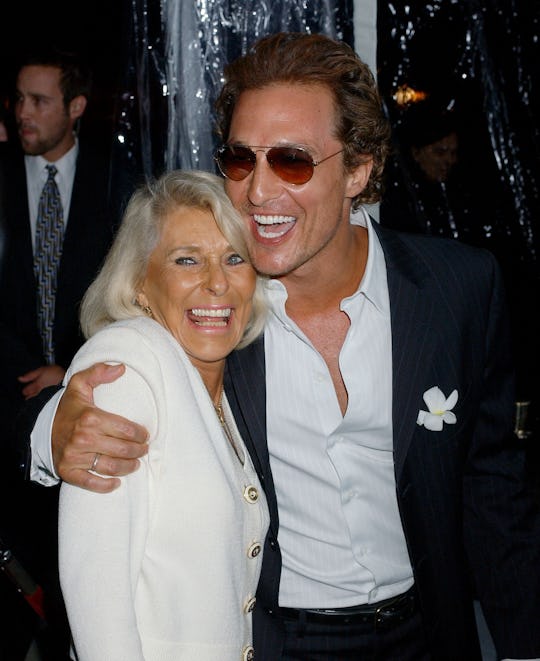 Gregg DeGuire/WireImage/Getty Images
Matthew McConaughey Reveals What's Tricky About His Mom Living With His Family
MaMac is a "troublemaker," but she practices what she preaches.
Sometimes you just can't bite your tongue. Matthew McConaughey's mother Mary Kathleen McCabe, who also goes by the nickname "K-Mac," has been living with the actor's family for a few years now and apparently likes to get involved in parenting his three children with wife Camila Alves McConaughey. Turns out, "MaMac" as her grandkids call her, likes an old-school approach to the constant "why" questions kids love to pummel at their parents.
In a recent interview with Access to promote his debut picture book Just Because, McConaughey described his mother as a "troublemaker."
"The family is very good, we have four children now — my mother, who is 91," McConaughey joked. "She's been with us for about three and a half years." During the interview, McConaughey was asked what the trickiest part of living with his mother has been and was a little hesitant to answer, but came up with an answer.
"We raise our children similar to how my mom raised me, but I've tried to update a few things," McConaughey said. "We maybe have more discussions with our kids about why. Back then, I grew up in 'it's because I said so' — that was it."
"Sometimes she'll be listening to us … The kids are going, 'Yeah, but why?' 'Yeah, but why?' 'Yeah, but why?' And we'll keep explaining," he continued. "All of the sudden, she'll be like, 'I've had enough of this explanation! Would you just tell them it's because you said so?'"
McConaughey told Access his mother "cuts us off sometimes" but ultimately doesn't mind it. "It's good, the kids get kinda spooked for a second and we're like, "Well there ya go, that's your grandmother.'"
But this "because I said so" rule doesn't just apply to her grandkids, 15-year-old Levi, 13-year-old Vida, and 10-year-old Livingston. MaMac does indeed practice what she preaches. In a video McConaughey's wife posted on Instagram over the summer, Camila shared how her mother-in-law stopped itching herself simply because told herself to stop.
"MaMac was sitting next to me and kept itching, itching, itching her hands," Camila recalled in the video. "I was like 'MaMac, don't use your nails, use the back of your fingers so you don't break your skin. And she goes, 'I'm not going to do it anymore. I said 'You can stop that easy?' And she said, 'because I say so.'"
McConaughey has a close relationship with MaMac, even if she likes to stir the pot every now and then. Like when she said she knew Woody Harrelson's father so well that the two actors believed they may be brothers. Or how she had McConaughey believe for over 40 years that he won the Little Mr. Texas contest, but really was the runner-up.
MaMac might be a troublemaker, but you'd better listen when she says "because I said so."