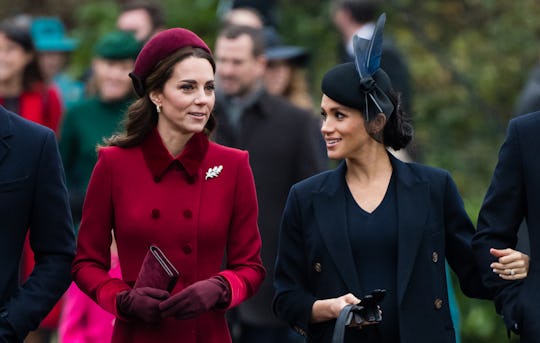 Pool/Samir Hussein/WireImage/Getty Images
Meghan Markle Apparently Told Kate Middleton She Had "Baby Brain" & It Caused A "Huge Row"
Apparently things got heated between the two women.
Even before its release date, Prince Harry's memoir Spare is already causing a major ruckus. Not just for him either. A preview of the Duke of Sussex's book shed some light on the relationship between his wife Meghan Markle and sister-in-law Kate Middleton, specifically their relationship in 2018, when Middleton had just given birth to her third child Prince Louis and Markle was in the throes of planning a royal wedding. Apparently things got heated between the two women, and to be fair it must have been an emotionally heightened time for both of them.
In his memoir, according to the Daily Mail, Prince Harry shares a story about an argument between Middleton and Markle that happened around the time of the couple's 2018 wedding. An argument that has been hotly debated since, as supporters on both sides accused each woman of making the other cry in the days before the royal wedding. Now it seems that Prince Harry is attempting to clear up the confusion once and for all.
"There was a discussion about the timing of the wedding rehearsal and the flower girl dresses and Kate was very upset," a source reports that Harry shares in his book, according to the Daily Mail. The dad of two apparently writes that Markle told her sister-in-law that she "must have baby brain because of her hormones," which in turn saw Markle officially reprimanded for speaking to Middleton, who had given birth to Prince Louis just one month earlier, in a way that could be considered offensive.
"It caused a huge row because Meghan was told that she wasn't close enough to her sister-in-law to discuss her hormones and it wasn't the way people spoke to each other within the Royal Family," a royal source told the outlet. "The book makes clear that Meghan felt the fall-out wasn't her fault, but it doesn't exactly make her look very good either."
Markle herself addressed the rumors that she made Middleton cry over Princess Charlotte's flower dress in her 2021 interview with Oprah Winfrey, telling the media mogul at the time that it was Middleton who made her cry, not the other way around.
Whatever really did happen that day, it feels fair to say that both women were under a lot of emotional pressure at the time. A new mom, a royal bride, both of them constantly thrust in the spotlight, criticized, harassed. "Baby brain" was not the problem.