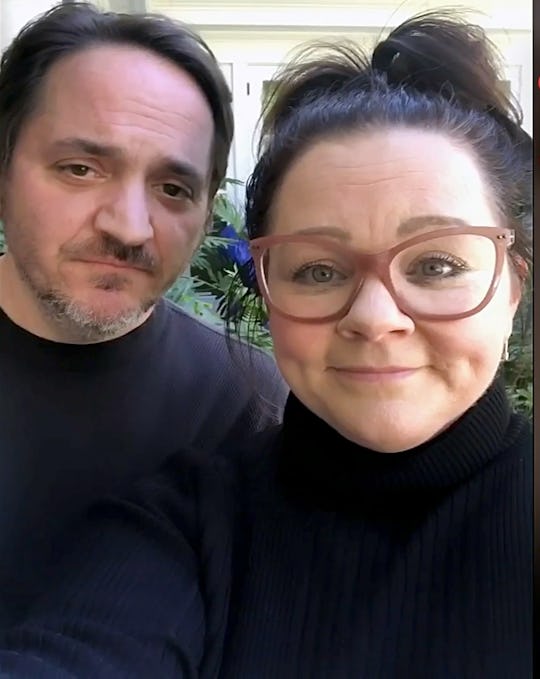 FOX/FOX Image Collection/Getty Images
Melissa McCarthy Says The Key To Happiness Is To Marry Your "Weird Best Friend"
Who else are you going to wear fake mustaches with?
Many of us first met Melissa McCarthy as Sookie on Gilmore Girls, but now we know her as so much more. Soon we will even know her as Ursula from the live-action version of The Little Mermaid, where we will get to hear her sing for the first time. Although to be fair, any of her social media fans have heard her sing. In a way. Goofing around with her husband, for instance. Because those two, along with their kids, are genuinely the dream family. Funny, silly, and in each other's corner, if you love Melissa McCarthy you really need to love her family, too. Because they are just as quirky, sweet, and above all, genuine as the actress herself.
She's been married to Ben Falcone for years
McCarthy has been married to husband and frequent collaborator Ben Falcone since 2005, but they've actually been together for 27 years. The couple first met when they were part of the same improv class at the Groundlings Theater in Los Angeles in 1998 and they've been together ever since. The actress has been on screen with her husband in movies like Bridesmaids (you'll remember him as the undercover officer seated beside her on the plane), The Heat, and even some older episodes of Gilmore Girls.
Falcone is also a talented screenwriter, and McCarthy is frequently his muse for movies like Tammy, The Boss, Thunder Force (with longtime family friend Octavia Spencer), and Life of the Party.
She married her "weird" best friend
Last July, McCarthy and Falcone collaborated on one of my most favorite Instagram posts ever. They dressed up in wigs, she put on a mustache, and they danced around being goofy together and making each other laugh. Why? I mean, why not?
"The real key(s) to happiness," McCarthy captioned the post. "Step one - marry your weird best friend. Step two - always, and I mean always, have a plethora of wigs in your home."
Their daughter Vivian in 14
Vivian Falcone made her screen debut in 'The Boss.'
McCarthy and Falcone welcomed oldest daughter Vivian in 2007, and while the 14-year-old has not been featured too frequently on her mother's social media posts, she did make her screen debut in her parents' 2017 movie The Boss. She played McCarthy as a young girl being returned to the orphanage in the film, although technically Vivian was first on the set of Gilmore Girls when her mom was pregnant for her and the pregnancy was written into the show.
The proud mom told E! in 2018 that Vivian lobbied hard be a part of the movie. "They kept asking and we said no for months and [then] my oldest said, 'Am I not allowed to even try?' [Vivian is] very smart and I said, 'That's good, you went right to it because I certainly can't say you're not allowed to try,'" she told the outlet. "So we spent the next month seeing really if she'd do it. She did great."
Vivan played her mom in Thunder Force
Vivian plays young Lydia.
It seems young Vivian caught the acting bug after that first taste of on-set life. When her mom starred in Thunder Force (streaming on Netflix and written by her dad, Falcone) it was Vivian who played McCarthy as "young Lydia." And she is definitely her mom's daughter; check out her scene being the wise-cracking kid in class. Great comedic timing.
Their daughter Georgette is 11
Vivian became a big sister when McCarthy and Falcone welcomed their daughter Georgette in February 2010. Much like their parents, both Vivian and Georgette are apparently very funny. So much so that discipline can be a bit of a struggle. "They get out of being disciplined because they are funny," Falcone admitted to People in December. "They'll do something [to get a laugh] and you're like, 'Alright, hold on, that's not the point.'"
Georgette could have a career as a stunt person
Georgette also made a brief appearance as one of the girls selling brownies in The Boss, although it sounds like her movie career might be as a stunt person rather than an actor. She's such a daredevil that her mom bought her a stunt vest for her 10th birthday last year, "Well, for your typical 10-year-old, I got her a Hong Kong harness. It's what you use. It's a stunt harness, which is what you wear if you're being jerked up or if you're in a fight scene. Or if you're in an explosion in a movie, it'll pull you back. And that's all she really wanted," McCarthy explained on The Ellen DeGeneres Show. "I love stunts so much, so I kind of got her a baby stunt vest."
Perhaps there's an anime artist in the family?
If Georgette outgrew her baby daredevil phase, it sounds as though she could try a career in anime design. "She's taking Japanese lessons," McCarthy told DeGeneres about daughter Georgette. "She's so into anime, she'll just go upstairs and we're about to go to school and she comes down and there's a full band of yellow [across her eyes] and she's like 'I'm ready for school.'"
I don't know about you, but everything about the McCarthy/Falcone household sounds like an absolute blast.
This article was originally published on