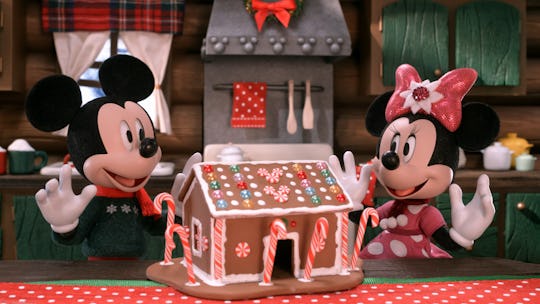 Disney
Mickey's Christmas Tales Is About To Be Your Kids' Favorite New Holiday Special
Nothing says Christmas like new Disney specials!
Now that Halloween 2023 is on the books, you know what that means: Mariah Carey has been defrosted and it's officially holiday season! Nothing gets us excited about the upcoming festivities quite like a new Christmas special. That's why we're setting our alarms for Monday, Nov. 27 when Disney Channel and Disney Junior will premiere Mickey's Christmas Tales, a series of five stop-motion animation shorts that will be available to stream on Disney+ starting Wednesday, Nov. 29.
Mickey's Christmas Tales picks up where last year's Mickey Saves Christmas left off. Follow Mickey, Minnie, and the gang as they prepare for and celebrate the season with relatable family traditions like building snowmen and baking cookies. Of course, all your kiddos favorite characters will be there — Goofy, Donald, Daisy, and even Santa and Mrs. Claus themselves will join in the fun. Episodes include:
"Starstruck": A little girl, Bitsy, tells "Goofy Claus" her wish for a great big Christmas tree with a star on top and Goofy and friends are determined to help make it come true.
"Up All Eve": Mickey's got a great idea this Christmas Eve — if everyone stays up past bedtime, they'll be able to see Santa come down the chimney.
"How to Build a Snowman": Some of our favorite Disney shorts have always been Goofy's "How To" videos, and in this one, he'll show us how to build a snowman. (It doesn't not go well, so it won't be instructive, but it will be hilarious.)
"Slip N' Sleigh": When adorable baby reindeer Jingle and Jolly accidentally break Santa's sleigh on Christmas Eve, Mrs. Claus has to give the Big Man his present early.
In Romper's exclusive clip from "Holiday Hideaway," Minnie is trying her best to make sure the Christmas cookies last long enough to be enjoyed after the holiday meal. Unfortunately, Donald is impatient and tenacious.
Mickey's Christmas Tales will premiere on Nov. 27 on the Disney Channel and Disney Junior and will be available to stream on Disney+ starting Nov. 29.