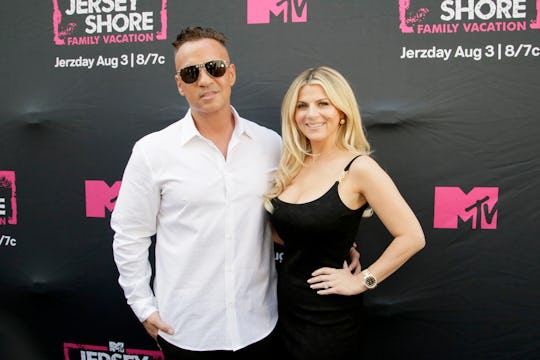 Santiago Felipe/Getty Images Entertainment/Getty Images
Mike 'The Situation' Sorrentino & His Wife Lauren Are Expecting Baby #3
The Jersey Shore star is about to have three little situations on his hands!
Mike "The Situation" Sorrentino didn't come this far just to come this far. The Jersey Shore star has gone through a lot over the past decade, all while cameras were rolling. The raunchy MTV reality show launched him into fame when it premiered in 2009, he battled addiction to prescription painkillers, and was sentenced to eight months in prison for tax fraud. And his wife, Lauren (Pesce) Sorrentino, has been his rock through it all. Nowadays, The Situation is a proud husband and father with Lauren, who all also appear on Jersey Shore: Family Vacation. And now, they're expecting another little situation!
Mike and Lauren are expecting their third child together.
On Sept. 26, the Sorrentinos announced they're expecting their third baby together. "Good things come in threes," the couple shared on Instagram, adding that Baby #3 is due in March 2024. Meaning Mike and Lauren will soon have three kids under three under their watch. "Three under three," Lauren commented on Mike's post. "here we go."
Mike's Jersey Shore roomies quickly took to the comments to share their congratulations. "Welcome to the 3 club!!!!" Nicole "Snooki" Polizzi, a mom of three herself, commented. "So happy for you guys!!" Sammi "Sweetheart" Giancola wrote, while Deena Cortese commented, "So excited for you all, beautiful family!" And Vinny Guadagnino added, "Anotha one."
The Situation shared another photo of him and Lauren, holding their son Romeo, who looks less than thrilled about the baby news, inside the Jersey Shore house in Seaside Heights, New Jersey. "Cabs are Herreee. Baby Situation # 3 coming in March 2024," the proud dad captioned the photo.
Here's what else you need to know about the Sorrentino family as they prepare to add another situation to the mix.
The Situation met his wife Lauren years before his Jersey Shore fame.
Mike and Lauren met nearly 20 years ago when they were students at Brookdale Community College in Middletown, New Jersey in 2005. While they broke up when Mike began filming Jersey Shore, after roughly four years of dating, he often refers to Lauren as his "college sweetheart" on the show.
"We met each other when she was probably 19 and I was 22 years old," Mike told People in 2018. "We went out together for about four years, and then once Jersey Shore started we decided to take a break throughout seasons 1-6. Once it was over, we eventually reconnected and have been together ever since."
Years after Mike and Lauren reconnected, they got married in November 2018.
The Jersey Shore couple found their way to each other in 2013, about a year after Jersey Shore ended. "Even though we were on such a long break — like, years — once we reconnected, it was full steam ahead," Lauren told Us Weekly in 2020. "He never moved out of New Jersey … but I never ran into him. I had friends and family and people that would always run into him. In, like, five or six years, however long that break was, I never ran into him. It was kind of like fate."
Lauren told Us Weekly they began dating again in 2013. "I was at a kickboxing gym and he knew I was going there because I kept seeing his family there," she told the magazine. "He knew what class I took every night and then he showed up. We connected and that was just it."
The couple got engaged in April 2018 and married later that year on Nov. 1, and both moments were featured on Jersey Shore's spin-off, Jersey Shore: Family Vacation.
Mike and Lauren welcomed their first child, son Romeo Reign, in May 2021.
In 2019, Lauren shared with Good Morning America that she suffered a miscarriage at "about six-and-a-half, seven weeks" after Mike finished serving his prison sentence. After some time had passed, they were ready to try again and announced in November 2020 that they were expecting their first "Baby Situation."
Their son Romeo Reign was born on May 26, 2021. Their baby boy had to stay in the NICU for two weeks after contracting a fever. Mike admitted in a confessional on Jersey Shore: Family Vacation that he was "a little scared" during Romeo's hospitalization, while Lauren credited her husband for being her rock during that difficult time. "When I needed to just cry, Mike just took over and handled everything," she said on the show. "There's not one other man in this world who is capable of doing that for our family."
Nowadays, Romeo is 2 years old and recently celebrated his birthday with a Peter Rabbit-themed party. Mike and Lauren manage an Instagram account for Romeo, @itsbabysituation, which currently has over 470,000 followers.
Their daughter, Mia Bella Elizabeth, was born in January 2023.
Mike and Lauren welcomed their second child, daughter Mia Bella Elizabeth, on Jan. 24, 2023. "We got an amazing Situation!! We are beyond over joyed to welcome our little girl into this world to join our growing family of 4," the proud dad wrote on Instagram to announce his daughter's birth.
Little Mia Bella is 8 months old and appears to be besties with her big brother. Mike and Lauren also run an Instagram account for their daughter, which has over 55,000 followers.
Now that he's a dad, The Situation is happy to have his wild Jersey Shore party days behind him.
In an interview with Extra in 2022, Mike said he's happy to have those wild days of partying and heavy drinking on the boardwalk behind him. "In my 20s, I was so wild, so now I'm just grateful to be in my 30s and be an amazing dad," he told the outlet. "I love being a dad… It's just so beautiful."
And speaking to Hollywood Life in January 2022, the former reality star who used show off his abs at the bar said that being a dad is the ultimate "flex" right now.
"I think my biggest flex is being a dad," Mike told the outlet, adding, "You can never imagine what it's like being a dad until you're actually a dad. If I had to describe it…you're introduced to a love you didn't even know existed. I feel like I found my purpose."
This article was originally published on