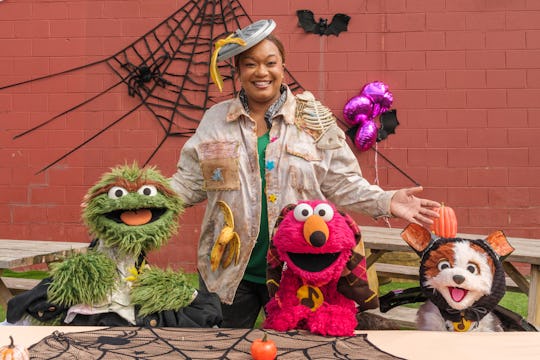 Warner Bros.
Watch The Trailer For An All-New Sesame Street Halloween Special
Oscar's Handmade Halloween features adorable rescue dogs, DYI costumes, and absolutely zero scares.
Sesame Street has been growing with many of us our whole lives and, somehow, it continues to speak in a fresh, funny, heartfelt way to our littlest kids just as much as it does to us. And while it can be tricky to find festive-not-spooky Halloween specials for families to watch together, our beloved Sesame Street has saved the day once again with an adorable new special, Oscar's Handmade Halloween. And Romper has an exclusive sneak peek at the trailer before it premieres on Oct. 5 on Max.
Starring Oscar the Grouch and the Food Network's Sunny Anderson, along with Elmo and his adopted puppy Tango, this brand new special has everything parents want from a cozy, feel-good Halloween watch and — importantly! — nothing you don't. At 22 minutes long, the length is ideal for the littlest ones in your household, too.
The Oscar's Handmade Halloween trailer has absolutely zero scares.
The spookiest thing about Oscar's Handmade Halloween is how badly you're going to want to adopt a dog after watching it. In this sweet special, which feels a lot like any number of soothing DIY home and garden reality shows, Sunny Anderson and Oscar the Grouch team up with an animal shelter to raise awareness about all the sweet rescue dogs that need homes. They decide to upcycle trash (what else?) into adorable costumes for the dogs in need of new homes. Or, as Oscar puts it "help these dogs find their trash can."
The trailer for Oscar's Handmade Halloween, a new Sesame Street Halloween special for 2023.
If your kids live for the Puppy Bowl, this is the Halloween special for you.
Sunny and Oscar ultimately use their DIY dog costumes — which are, of course, made in Oscar's trash workshop from repurposed trash — to put on a Halloween dog costume parade at the animal shelter. Loveable pups in homemade costumes, and the kids and families who love them, celebrating together on a sunny day surrounded by fall colors and bright blue skies make for exactly the kind of appropriate-for all ages, heart-warming, Halloween special you'd expect from the folks at Sesame Street.
Oscar's Handmade Halloween, premieres Thursday, Oct. 5 on Max.