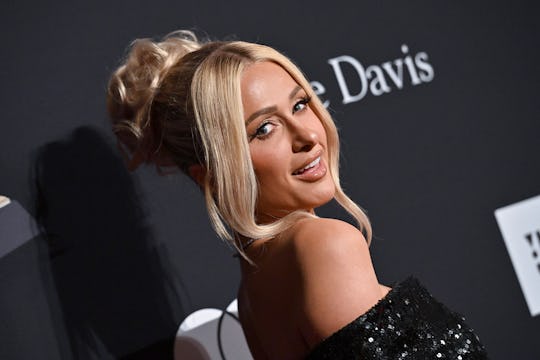 Axelle/Bauer-Griffin/FilmMagic/Getty Images
Paris Hilton Revealed Her Baby Boy's Name & Its Powerful Meaning
Welcome to the world Phoenix Barron Hilton Reum!
When socialite Paris Hilton became a mom, she decided to do things a little differently. After a life lived very much in the public eye, she and husband Carter Reum made the decision to keep the first week of their baby boy's life private. Really private. Even his name was a secret to everyone but them. But now the proud mom is ready to share details about her baby boy, including the symbolic meaning behind his beautiful name.
Hilton first announced that she and Reum had welcomed a baby boy on Jan. 25 with an Instagram post featuring her newborn's fingers gripping her hand. "You are already loved beyond words," she captioned the image. While it might have seemed at the time that the couple had just welcomed their son, Hilton revealed on her podcast This Is Paris that she and Reum had actually kept their son's existence a secret for an entire week.
"For now we've just been keeping everything really private," Hilton explained. "Not even my mom or my sister or my best friends — no one knew literally until he was over a week old, so it was really nice just to have that with Carter and be our own journey together because I just feel that my life has been so public, and I've never really had anything just be mine."
Hilton went on to explain that they kept the news private to ensure they could enjoy a full week as a family of three. "If you tell one person, then they tell someone, and then all of a sudden it's in TMZ or Page Six. So Carter and I literally made a pact together that we would not tell anyone," she said.
Now that the world knows about her son, she's finally ready to share his name: Phoenix Barron Hilton Reum.
Hilton shared the meaning behind her son's name in an excerpt from her upcoming book Paris: The Memoir, available for preorder ahead of its March 14 release, explaining that she had been searching cities for a name that would "go with Paris and London." But her son's name has a deeper meaning behind it than that.
"More important, it's the bird that flames out and then rises from the ashes to fly again," she explained. "I want my son to grow up knowing that disaster and triumph go around and come around throughout our lives and that this should give us great hope for the future."
The mythical phoenix rising from the ashes is a beautiful and perfectly apt name for Paris Hilton's son. Now get ready for it to hit all the top 10 lists of baby names.