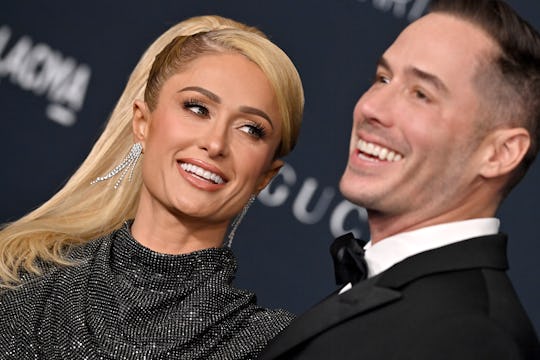 Axelle/Bauer-Griffin/FilmMagic/Getty Images
Paris Hilton Is Officially A First-Time Mom
He's already "loved beyond words."
Paris Hilton has become a first-time mom with husband Carter Reum. The 41-year-old socialite took to Instagram to announce that she has welcomed a baby who is "already loved beyond words."
Hilton's baby boy was born via surrogate, according to People, and it's truly a dream come true for her. "It's always been my dream to be a mother and I'm so happy that Carter and I found each other," Hilton told the outlet. "We are so excited to start our family together and our hearts are exploding with love for our baby boy."
Reum and Hilton were married in November 2021 and almost immediately wanted to start their family. Hilton said in a podcast interview in 2021 that they had started their IVF journey even before they were married. "It was tough, but I knew it would be worth it. I did it a couple of times," she said of her IVF treatments. "I think it's something that most women should do just to have and then you can pick if you want boys or girls... just because I really want to have twins that are a boy and a girl. So the only way to 100% get that is by making it happen that way."
Now Hilton and Reum have made it happen for themselves. Their baby boy has arrived, and Hilton is officially a mom. She shared a photo of her little boy clutching her thumb on Instagram with the message, "You are already loved beyond words" alongside a blue heart emoji.
The arrival of Hilton's baby boy has been met with loads of congratulations from her many celebrity followers. Lindsay Lohan wrote, "Congratulations!" while Kris Jenner added, "Congratulations what a blessing!!!!! We love you!!!!"
Hilton has been open about wanting to become a mom for some time. Back in June 2021 she admitted in a podcast interview that she was less interested in becoming a billionaire, which was a major goal for her before, than becoming a mom. "Now that I am so incredibly happy and in love in my personal life I'm not really interested in billions anymore," she told Just for Variety. "I'm more interested in babies."
While she did not share her baby boy's name or the actual date of his birth, we do know he'll have some little playmates at the ready: Aunt Nicky Hilton Rothschild's kids Teddy, Lily-Grace, and her little boy whose name she's not yet shared.
It's an exciting new stage for the whole family.