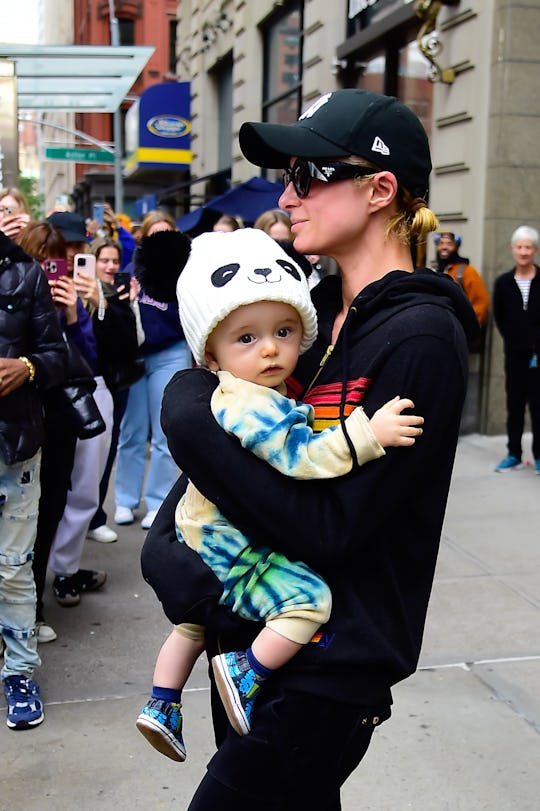 Raymond Hall/GC Images/Getty Images
Paris Hilton Calls Out "Sick People" For Comments About Baby Phoenix
"My angel is perfectly healthy."
Paris Hilton was just a mom trying to share some cute photos of her sweet baby boy on Instagram recently when the negative comments started to come in. Negative comments about her 10-month-old son Phoenix Barron's appearance, no less, his head in particular. Some of her followers took to Instagram with their so-called concern about her son, and she was simply not having it. Because she is a mom now, and "sick people" might want to think twice before coming for her son.
Last week, Hilton, who welcomed son Phoenix via surrogate in January with husband Carter Reum, shared some new photos of her baby boy on Instagram from his first visit to New York City. "My precious angel baby Phoenix's first time in NYC," she captioned the post, which you might think would be innocuous enough to avoid any kind of negative commentary. You would be wrong.
Several people commented on the size of Phoenix's head, including one person who wrote, "Does he have encephalitis? Like what is actually going on I'm not trying to be rude that doesn't seem normal."
Hilton responded to these insulting comments by writing, "There are some sick people in this world. My angel is perfectly healthy. And yes, of course he has been to a doctor, he just has a large brain."
Encephalitis is a rare but serious condition caused by inflammation of the brain and spinal cord, and one of the symptoms of the condition is a full or bulging fontanel, according to the National Institute of Neurological Disorders. It is not a condition to be lightly diagnosed by a person looking at an Instagram photo of a baby they've never met.
Hilton's followers might be oddly critical of a baby, but her own family is thankfully all about adoring little Phoenix. Especially her parents Kathy and Rick Hilton, who she told People are "so obsessed with him." She also said she has lots of family who are willing to give her parenting tips. "I'm always calling my mom and my sister [Nicky Hilton] for advice, and I'm really lucky that I'm so close with my family, so I have such a big support group."
Every mom needs a support group. Not a group of online strangers making negative comments about her little boy.