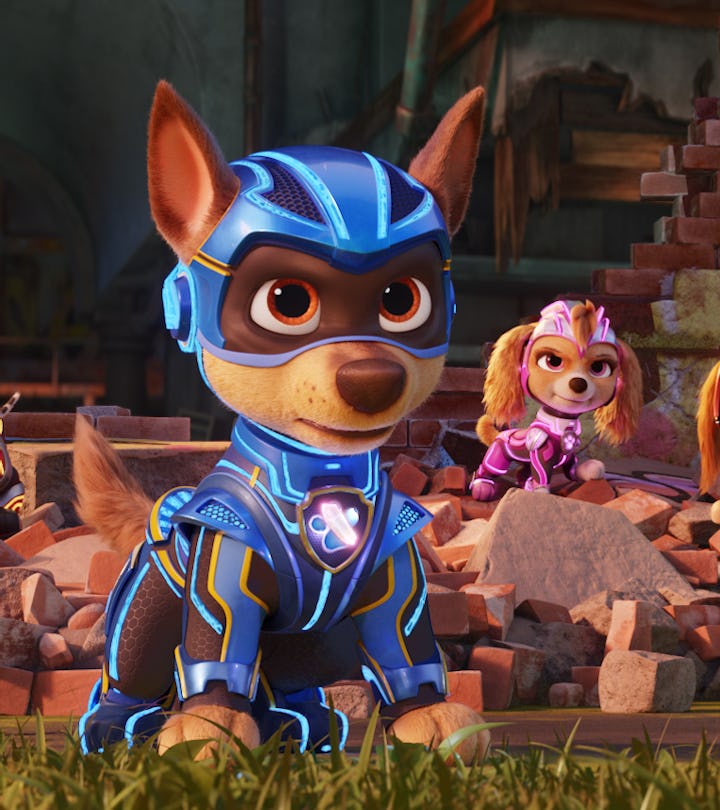 Paramount Pictures
What To Know Before Taking Your Toddler To See The New PAW Patrol Movie In Theaters
And how to decide if your little one is old enough for this level of action.
Parents of preschoolers can't not know about PAW Patrol. Even if your kids don't watch it much at home, you've probably got old PAW Patrol Valentine's shoved in a drawer or a pair of hand-me-down PAW Patrol-themed jammies in your bedtime rotation. These powerful puppies are ubiquitous, and so maybe it's not surprising that the 2021 PAW Patrol movie was pretty popular. Sept. 29, 2023 marks the release of PAW Patrol: The Mighty Movie, its highly-anticipated sequel from Spin Master Entertainment, Nickelodeon Movies, and Paramount Pictures. With a star-studded cast and a trailer that promises major action, parents of the toddler and preschooler crowd may be wondering if this movie is a good one for introducing your kid to the movie theater experience. Before you decide to grab your tickets, it may be helpful to consider what this movie is rated, and why it has earned that rating.
PAW Patrol: The Mighty Movie is rated PG.
The movie opens with a massive, magical meteor coming to Adventure City and imbuing the pups with super powers. Skye gets the ability to fly, and has super strength, Chase gets super speed, Marshall can throw balls of fire, Zuma gets power over water (and it's pretty cool, to be honest), and Rock becomes magnetic. It's a good thing they have these super powers, too, because in this film they're up against not one, but two supervillians: mad scientist Victoria Vance and their old enemy Mayor Humdinger.
Battles between the pups and their foe are explosive and exciting and yes, of course, involve some impressive vehicles that your kids will be asking for toy versions of come holiday season. The action and adventure here is constant, colorful, and legitimately exciting — even for the grown ups — which is why PAW Patrol: The Mighty Movie is rated PG (which suggests "parental guidance") for "mild action / peril" and not G.
If your toddler isn't used to a lot of action, you may want to wait.
Some spoilers ahead! Although everything works out just fine in the end this movie will have moments of breath-holding for littler audiences who perhaps are not used stakes this high. Skye is the big star of this film, and at the very end of the movie, she saves the day — but for a pretty dramatic moment, it seems that she's sacrificed herself to save the others. I think my kindergartener would probably be a little anxious, but could handle the stress of the moment, however I wouldn't want it to catch either of us off-guard.
It's nice that the filmmakers wanted to tell a big and powerful story, and Skye's bravery is a huge piece of this movie — and a winning, sweet storyline, too. But it's worth considering how your child feels about thinking — for even a few moments — that Skye died.
PAW Patrol: The Mighty Movie's run time is 1 hour 35 minutes.
Aside from all the action and adventure — and yes, "peril" — that your kid will enjoy (or find a little too scary, depending) this movie is a classic, tight 90+ minutes long. Before you splurge on movie tickets for the whole family, you may want to consider your child's typical attention span. Can they sit still for that long? Can they stay with a plot that takes this long to unfold? Particularly because they'll see their favorite pups in tricky situations, you'll want them to make it to the end to see that everything works out OK.
Parents will enjoy catching the many celeb voices in the mix.
If you take your kids to see PAW Patrol: The Mighty Movie, keep your ears open for some celebrity voices. Kim Kardashian voices a poodle, Dolores, while her kids Saint and North West also lend their voices as Meteor Man and Mini, respectively. You may recognize Kristen Bell as Janet, and James Mardsen as Hank, too.
If your kid isn't too bothered by a little — or a lot — of action, and a few moments of "oh no, is my favorite character going to be OK?!" grab a large popcorn, and settle in for a fun family movie date with everyone's favorite cartoon puppies.