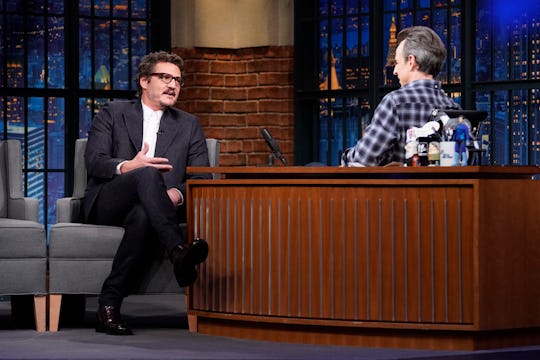 NBC/NBCUniversal/Getty Images
Pedro Pascal's Dad Forbid Him From Watching The Breakfast Club For A Hilarious Reason
Until they were stuck without a babysitter...
When Pedro Pascal was a little boy in the '80s, he was a fan of John Hughes' movies like everyone else at that time. He told Seth Meyers during a recent interview on Late Night that as a kid, he was all about movies like 16 Candles from 1984, which he was allowed to watch. The Breakfast Club, on the other hand, got a big N-O from his dad. Why, you ask? Because he was worried about his son picking up on the distinctly anti-parent vibes in the movie.
Pascal and Meyers were bonding over their shared love of the original Star Wars trilogy. "I was traumatized by the trash compactor," The Mandalorian actor admitted, saying he's fairly certain he watched the movie in the theater, which presumably his parents took him to see. His parents also let him watch movies like The Big Chill and First Blood, but drew a hard line across The Breakfast Club.
"I was not allowed to see The Breakfast Club in the movie theater" Pascal explained. When Meyers pointed out that there was no nudity in the movie, Pascal explained his dad's reason. "He was like, 'these are a bunch of kids complaining about their parents.' And he was like, 'f**k that.'"
Young Pedro Pascal really "needed to see" The Breakfast Club, and he eventually got his wish. One night when he was around 10 and his older sister was around 12 his parents couldn't find a babysitter when they wanted to go out. So they capitulated and rented the movie for their kids, which Pascal says he watched "three times that night."
Meyers pointed out that it's "so funny when parents think they can make a thing you want to see contraband and it won't make you want to see it, like, 100 times more."
Case in point: back in 2020, Pascal was filming Wonder Woman 1984 in Illinois and organized a Breakfast Club photo shoot with the rest of the cast including Gal Gadot, Chris Pine, and Kristen Wiig. He accidentally tweeted and deleted the photo shoot as it was apparently "just supposed to be hanging in my house," he explained later.
All these years later, he is still thinking about The Breakfast Club. I wonder how his dad feels about that.