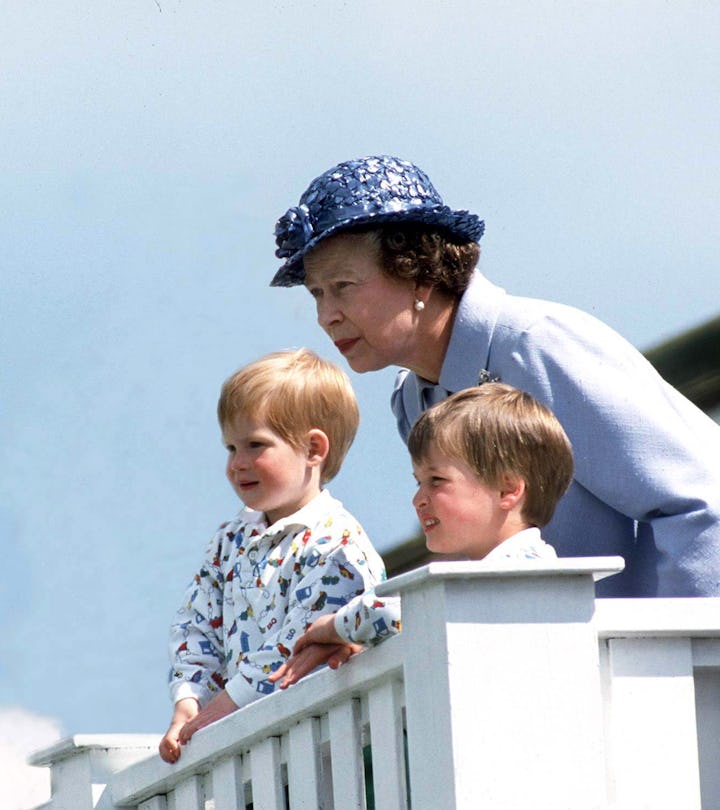 Tim Graham/Tim Graham Photo Library/Getty Images
21 Royally Sweet Photos Of The Queen With Her Grandchildren
Queen Elizabeth was a loving "Gan-Gan."
On Sept. 8, Queen Elizabeth died at the age of 96 years old. She died, according to a solemn statement from Buckingham Palace, "peacefully at Balmoral this afternoon." Perhaps even more significantly, she died surrounded by her family. Including the grandchildren and great-grandchildren she loved so dearly, as strongly evidenced by these photos of Queen Elizabeth with her grandchildren and great-grandchildren. She might be the longest reigning monarch the United Kingdom has ever seen, but to these people she is quite simply "Gran."
Queen Elizabeth and her late husband Prince Philip were parents to four children together: Prince Charles, Princess Anne, Prince Andrew, and Prince Edward. From those children, they went on to be grandparents to eight grandchildren and eight great-grandchildren. Each of her grandchildren were reportedly close to her in different ways. According to royal expert Robert Lacey, Prince William has received important mentorship from the queen over the years as heir to the throne, according to People. While his brother Prince Harry reportedly has enjoyed a more casual relationship with his grandmother, so much so that he rather famously gave her a shower cap one Christmas that read "Ain't Life A B**ch," according to The Daily Express.
Like most big families, everyone has their own role and cute nicknames for each other. In private, Prince William and Prince Harry reportedly call the queen "Granny" or "Gran," while her great-grandchildren call her "Gan-Gan," according to Marie Claire. And from the looks of these photos, she enjoys this role quite a bit.