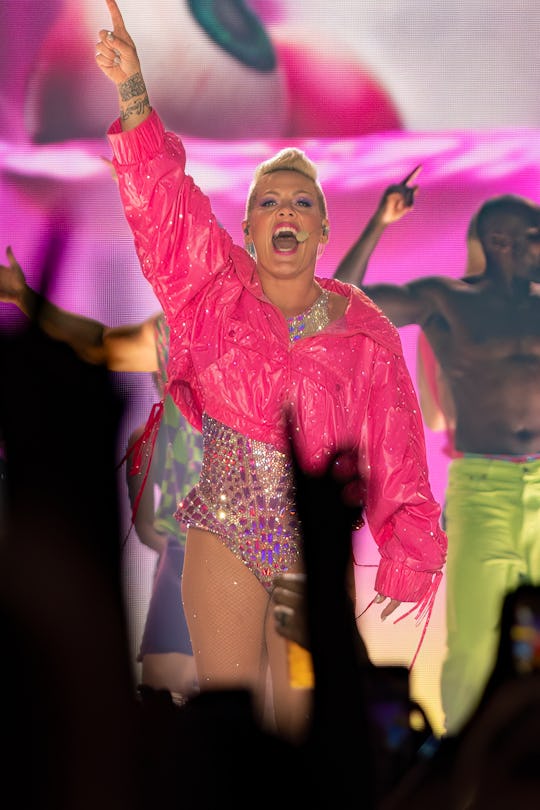 SUZANNE CORDEIRO/AFP/Getty Images
Pink Kicked A Man Out Of Her Concert For Yelling About Circumcisions
"You spent all that money to come here and do that?"
Tickets to see Pink during her Summer Carnival tour do not come cheap, especially floor tickets where the singer can actually see you and talk to you. So imagine spending a whole bunch of money to see Pink in concert only to get thrown out by security. Which is exactly what happened when a man recently showed up at her concert at Alamodome Stadium in San Antonio to protest circumcision. Sure, a Pink concert might seem like an odd platform for the circumcision conversation, but that certainly didn't stop that fan from spending loads of money to get her to see his phone and then just go home.
In video footage taken by fans at the concert on Monday night, Pink is seen looking out into the crowd at a man holding up his phone for her to see.
"What does that say?" she asked in the video. "Oh wow. You're making a whole point right now, aren't you?"
As the man started to yell at the singer, she added, "Do you feel good about yourself? Are you gonna be alright? You spent all this money to come here and do that?"
Pink went on to tell the audience, many of whom were booing at the man holding up his phone, "He wants all of you to read it. He came here tonight to talk about circumcision." The mother of two then asked asking security to "get it out, get that cancer out." At which point the man was removed.
While there was no real explanation as to why this man chose Pink's concert as his platform to call out circumcision as "cruel and harmful," according to reports, his decision could be based on an Instagram post from 2019. When Pink shared a photo of her then 2-year-old son Jameson, who she shares with husband Carey Hart along with 12-year-old daughter Willow, and some internet sleuths apparently noticed he was circumcised. "There's something seriously wrong with a lot of you out there," Pink responded at the time after people commented on her son's anatomy. "Going off about my baby's penis? About circumcision??? Are you for real?"
This man's protest is just another surreal moment from Pink's concert series. Earlier this summer, a woman in London threw her dead mother's ashes on the stage during Pink's performance, leaving her flabbergasted and unsure how to proceed. Pink's concerts are certainly a wild ride.