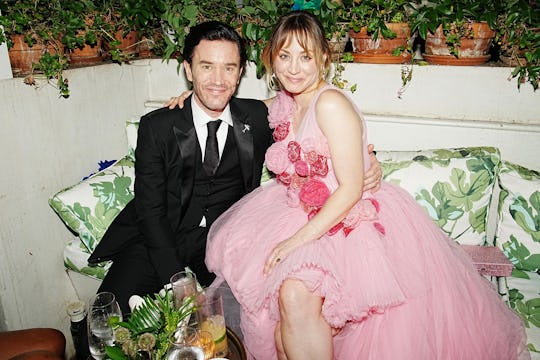 Jeff Kravitz/FilmMagic/Getty Images
Pregnant Kaley Cuoco Shared Photos From Her Epic Baby Shower For Her "Future Unicorn"
The Big Bang Theory star and Tom Pelphrey went all out for their baby girl.
Kaley Cuoco and Tom Pelphrey are getting closer and closer to officially welcoming their first child together, and over the weekend they celebrated their "future unicorn" with an epic baby shower. Really, they pulled out all the stops. Think spectacular drone shows and tuxedos and sparkly mini dresses. That kind of fancy.
The Big Bang Theory actress first announced that she and her boyfriend, Ozark star Tom Pelphrey, were expecting their first child together back in October of last year. "Baby girl Pelphrey coming 2023💕 beyond blessed and over the moon… I 💓you @tommypelphrey !!!" she captioned her announcement on Instagram at the time.
Since she first shared her exciting pregnancy announcement, Cuoco has gone on to share bump photos with her more than 7 million followers on social media, beaming with an ear-to-ear smile in every photo. Just as she was beaming in photos from her weekend baby shower. Both she and Pelphrey looked overjoyed to be celebrating the impending arrival of their baby girl with family and friends, dressing for the occasion in a pink sparkly minidress and a black tuxedo respectively.
"Last night we got to celebrate our future unicorn surrounded by incredible friends, family & animals in the most magical environment," Cuoco wrote on Instagram reel of the event. "thank you to the very special group of people who made it a night we will all remember for the rest of our lives."
The massive drone light show featuring Cuoco's beloved horses certainly didn't hurt.
The couple sat with family and friends under a massive white tent hung with string lights, laughing and embracing and clearly having the time of their lives. One photo saw Cuoco laughing with Pelphrey's arm around her, both full of happiness.
Cuoco's friends and family could not have been happier for her, including former Bachelorette Ali Fedotowsky-Manno, who wrote on Instagram. "Kaley, my friend, I have never seen you radiate the way you do in this moment. You are absolutely GLOWING and your joy is completely contagious. I want to hug that belly of yours all day and soak it all up because it's truly beautiful and emotional to witness." The baby shower even included personalized pink decor with the words "Baby Girl Pelphrey" written across them, keeping their name to themselves for now apparently.
The baby shower is another fun stage on the way to Cuoco and Pelphrey's new addition finally arriving. Their own little unicorn, as predicted.