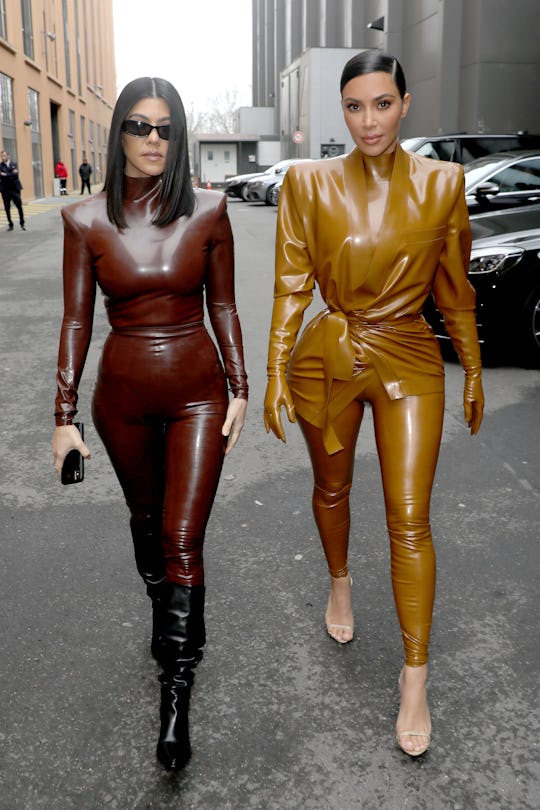 Pierre Suu/Getty Images Entertainment/Getty Images
Kourtney Kardashian Dressed Up As One Of Kim's Iconic Pregnant Looks For Halloween
She went full "Freaky Friday."
Kourtney Kardashian has always gotten super creative with her Halloween costumes. She and her three kids have done group costumes in the past, and now that she's married to Blink-182's Travis Barker, those two have donned matching costumes as well. But this year, Kourtney decided to go it alone and pay homage (we think) to one of her family members. She dressed as sister Kim Kardashian for Halloween, using the fact that she is currently pregnant with her fourth child to full advantage and replicating Kim's look at the Met Gala in 2013.
The Poosh mogul took to Instagram on Saturday to share her Halloween costume for this year, and it looked very familiar. "Freaky Friday," Kourtney captioned her post, alongside photos of her dressed in sister Kim's floral Givenchy gown from the 2013 Met Gala. Like her sister did at the time, when she was pregnant with her daughter North with ex-husband Kanye West, she wore her hair in a long, sleek ponytail and went with a dark red lipstick.
The resemblance was uncanny. And the costume concept was kind of genius, especially after this season of The Kardashians on Hulu.
The two sisters have been clashing quite a bit on their reality series, with Kourtney feeling slighted after she believed Kim stole her wedding style from her 2022 nuptials in Italy when the Skims mogul helped to curate a Dolce & Gabbana fashion show. Kim fired back that her sister stole her "wedding country" on the show, and things escalated from there. It was a bit of a messy fight between the two sisters, and Kourtney has been conspicuously absent throughout much of the fourth season of The Karsdashians. Which is, of course, why this costume choice is so genius. Kim clearly had to loan her sister the dress, and it acts as a reminder that, beyond the filming of their reality series, they are still close to each other.
Certainly Kourtney's followers seemed to be in on the joke. "Stole her wedding country. Stole her met gala look. Iconic. Truly," wrote one. "Only sisters can throw this type of shade lol, everybody else needs to mind their business lol," wrote another.
Is Kourtney's Halloween look throwing shade, or just a really perfect wink and a nod to her sister? Maybe it's a bit of both but whatever, we love it.