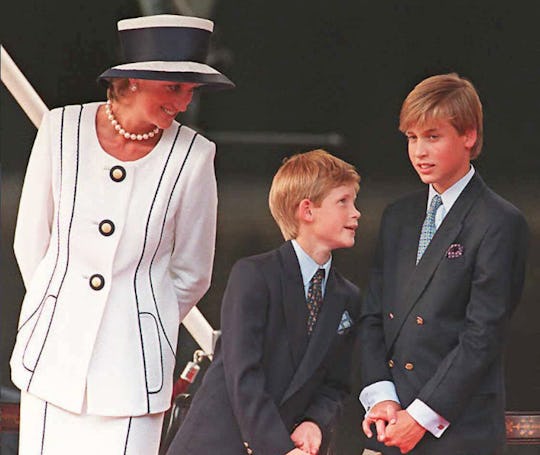 AFP/AFP/Getty Images
Prince William Shares How He Plans To Follow In His Mother's Footsteps With His Kids
Princess Diana exposed him to the "inspiring work to support those most in need."
Princess Diana continues to inform the way her sons are raising their children more than 25 years after her tragic passing in 1997. In an emotional essay for British newspaper The Big Issue, Prince William opened up about how he is doing his best to follow in his mother's footsteps when raising his three children, and the late Princess of Wales would most certainly be proud.
Prince William took to the streets ahead of his 40th birthday to sell copies of The Big Issue, a publication that advocates for those experiencing homelessness, in which he wrote an essay called "Why I Wanted To Work With The Big Issue." And it all goes back to Princess Diana.
"I was 11 when I first visited a homeless shelter with my mother, who in her own inimitable style was determined to shine a light on an overlooked, misunderstood problem," Prince William wrote. He went on to share that he felt "lucky" to be in a position where he can help raise awareness about the complex issue of homelessness.
"I count myself extremely lucky to have a role that allows me to meet people from all walks of life, and to understand their full story — whatever it may be. It's a privilege that many of us, busy with our days, don't always afford."
As dad to 8-year-old Prince George, 7-year-old Princess Charlotte, and 4-year-old Prince Louis, who he shares with wife Kate Middleton, Prince William wants to make sure he shares his passion for helping the homeless with his own children. "And in the years ahead, I hope to bring George, Charlotte and Louis to see the fantastic organisations doing inspiring work to support those most in need – just as my mother did for me."
Prince William has been very open about his intention to keep his philanthropic mother's memory alive for his children, so much so that every year they write Mother's Day cards to "Granny Diana." His younger brother Prince Harry, who is dad to 3-year-old Archie and 1-year-old Lilibet with wife Meghan Markle, has been keeping their mother's memory alive as well. Prince Harry talks to Archie about "Granny Diana" and even said he feels her presence with him all the time now that he is a dad.
Princess Diana's influence continues to guide both of her sons to do the right thing. To use their platforms to help people, perhaps especially those who are made to feel invisible. Just as she herself always tried to help.