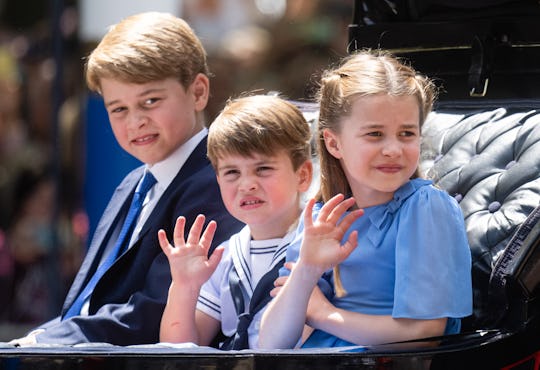 Samir Hussein/WireImage/Getty Images
Viral TikTok Video Confirms Princess Charlotte Is Princess Diana's True Heir
It seems they both like to decide when to wave.
Princess Diana did not live to see Queen Elizabeth's Platinum Jubilee. She didn't get to join her son Prince William, his wife Kate Middleton, or her three grandchildren for a historic weekend of events. But in some ways, it seems she sort of was there. At least, her 7-year-old granddaughter Princess Charlotte was certainly channeling her grandmother's spirit during the event. Especially in a moment captured in a TikTok video that shows the Spencer blood line runs deep in the Cambridge children.
Princess Charlotte was a changed young lady at the Platinum Jubilee. Gone was the sassy little princess who threw temper tantrums on tarmacs, stuck her tongue out at photographers and told journalists they weren't allowed to come to her baby brother's christening. In her place was a composed 7-year-old so invested in decorum that she was seen frequently making sure her brothers were following the rules. While 8-year-old Prince George got in trouble from his sister once let's face it; mostly she was coming for 4-year-old Prince Louis. In one viral instance, Princess Charlotte was seen stopping Prince Louis' waving; she had apparently had enough.
TikTok user @the_blazing_royals pointed out that the moment was quite similar to one her grandmother Princess Diana had with her uncle Prince Harry when he was a boy. Eerily similar, some might say.
Princess Diana was seen placing her hand on Prince Harry to get him to stop waving not once, but twice, at a VE Remembrance Day ceremony in Hyde Park in 1995. Not unkindly, but firmly. Much as her granddaughter Princess Charlotte was seen doing 27 years later at the Platinum Jubilee. This is not the first time Princess Charlotte was clearly taking after her late grandmother. Her father Prince William has spoken of his daughter's love of dancing, whether that be in her ballet class or in the family's kitchen dancing to Shakira. Much as her grandmother Princess Diana loved to dance, once even performing a choreographed number to "Uptown Girl" by Billy Joel with the Royal Ballet.
While it is heartbreaking to think of Princess Diana, who would be just 61 years old if she had lived, is missing out on her grandchildren, it's beautiful to see her spirit living on in them. Although Prince Louis might disagree after a weekend of scolding from his sister.