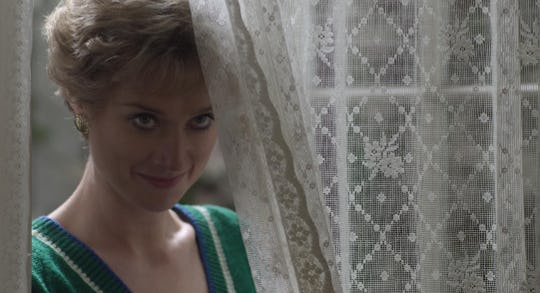 Netflix
Princess Diana's Ghost Will Appear In Season 6 Of The Crown
Her ghost had some thoughts about her funeral.
The Crown on Netflix has never pretended to be a documentary about the royal family. The massively popular series from creator Peter Morgan has long made it clear that it is firmly in the historical drama category, meaning it definitely takes liberties with its source subject. Which is, as we all know, the endlessly intriguing lives of the British royal family. And with the sixth season of The Crown just around the corner, the show is extending beyond the grave to imagine what the ghost of Princess Diana might have to say about her own death. So again, definitely not a documentary.
Season 6 of The Crown has been separated into two parts, with Part 1 focused on the royal family's changing dynamic up to the 1997 death of Princess Diana (Elizabeth Debicki) in a car crash in Paris along with her then-boyfriend, Dodi Fayed. Princess Diana was just 36 years old when she died. She was mom to 15-year-old Prince William and 12-year-old Prince Harry, and a symbol of empathy and kindness to the people of the United Kingdom, who began to call her the People's Princess in the wake of her untimely death.
In Season 6 of The Crown, fans will reportedly get a chance to see how Princess Diana's ghost felt about her death and the royal family's response to it, according to the Daily Mail. Princess Diana's ghost will, per the Mail, check in with Prince Charles (Dominic West) after he was seen sobbing over her dead body in the morgue, telling him, "Thank you for how you were in the hospital. So raw, broken — and handsome. I'll take that with me."
Princess Diana's ghost is also expected to drift over to visit Queen Elizabeth (Imelda Staunton) to talk to her about her funeral plans and the public outpouring of affection her death triggered, according to the Daily Mail. "I know it must be terrifying," Princess Diana's ghost reportedly tells Queen Elizabeth as they hold hands. "As long as anyone can remember you've taught us what it means to be British. Maybe it's time to show you're ready to learn too." The Crown uses this imagined speech as the moment Queen Elizabeth decides to leave her home in Balmoral in Scotland to come to London and grieve her ex-daughter-in-law with the rest of the country. A move that was seen at the time by many as far too long in coming. So good thing Princess Diana's ghost decided to step in, otherwise who knows what might have happened.
Check out Princess Diana's ghost and the rest of the cast of the final season of The Crown when Part 1 drops on Nov. 16. Part 2 drops on Dec. 14.