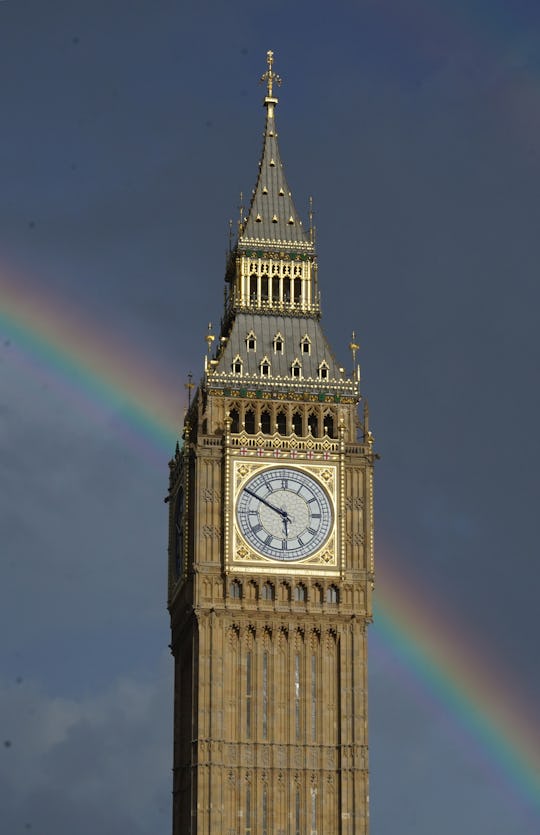 Ian West - PA Images/PA Images/Getty Images
Another Rainbow Appeared On The Eve Of Queen Elizabeth's Funeral
The first appeared soon after she died.
The day that Queen Elizabeth died at the age of 96 years old on Sept. 8, a beautiful double rainbow appeared in London. It was a lovely moment that did not escape the hundreds of well-wishers gathered to pay tribute to Queen Elizabeth at the time. And it was not the last time a rainbow would appear seemingly out of nowhere that felt like a tribute to Her Majesty. On Sunday evening, the night before the late sovereign's funeral, another rainbow appeared so suddenly that the crowds gathered reportedly "gasped" at the sight.
Crowds were gathered outside Westminster Abbey on Sunday night to pay their respects for Queen Elizabeth ahead of her state funeral on Monday, the final event honoring Her Majesty after 10 days of events celebrating her life and mourning her passing. As the Queen was lying in state inside Westminster Palace that evening, a rainbow appeared in the sky above the Clock Tower, which was renamed the Elizabeth Tower in 2012 to honor the late monarch. It felt like a special moment to the crowd, who let out a collective gasp when they saw the rainbow appear, according to reporting from the BBC's Sophie Raworth.
This is the second time a rainbow appeared to arrive in the sky in relation to Queen Elizabeth's passing. On Sept. 8, in the hours before the royal family officially announced that the Queen had indeed died at her beloved summer home of Balmoral Castle in Scotland, a double rainbow appeared over Buckingham Palace. While these rainbows could arguably be coincidences, many social media users prefer to see them as tributes to the longest reigning monarch who ever sat on the throne of England. "I'm not much of a religious person but all these rainbows over London as the world is watching are quite something," wrote one Twitter user, while another added, "A Beautiful double rainbow this evening! I take this as a wonderful sign from the Queen from above."
These two rainbows, bookending the announcement of Queen Elizabeth's death and her funeral 10 days later, clearly brought comfort to mourners regardless of any symbolism behind them. And considering how much she meant to millions of people around the world, there really cannot be any harm in seeing a rainbow over Buckingham Palace and thinking of Queen Elizabeth. A woman who spent her life in service to the crown.