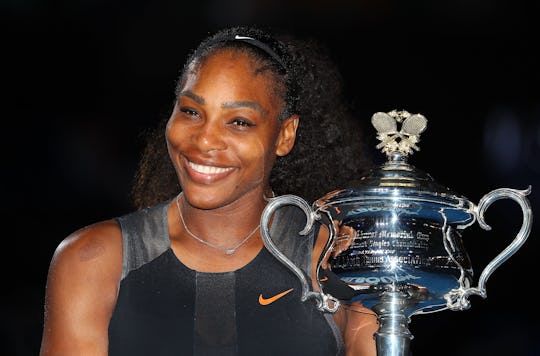 Scott Barbour/Getty Images Sport/Getty Images
Serena Williams' Pregnancy Gives Me So Much Hope
When I was 25, I discovered I had fibroids, or non-cancerous growths on my uterus. One of the fibroids, a baseball-sized tumor that split my uterus in half, had to be removed. A month later, I had a myomectomy, a surgical procedure that removed the fibroid without causing extensive damage to my uterus. I spent six weeks recovering and thinking about the prospect of never having children.
I wasn't ready to have kids yet, but I was so young that I thought I'd have at least a decade to figure out if I actually wanted them. Developing fibroids, however, made the question seem more urgent. While my doctor had told me that fibroids don't usually cause infertility, there was a high chance of recurrence, and I thought often about his warning: "We will only perform two myomectomies before giving you a full hysterectomy," he said. "If you want to have kids, now may be the time to start planning."
A few years later, I still hadn't had kids, and couldn't shake the feeling that I was starting to run out of time. Then Serena Williams announced she was pregnant, and it gave me hope.
On April 19, Serena Williams announced her pregnancy on Snapchat. The 35-year-old tennis star is one of a slew of celebrities like Beyoncé, also 35, who announced the upcoming arrival of her twins in February, and Janet Jackson, who recently became a first-time mom at the age of 50, who are subverting the notion that motherhood is less of a possibility as we age. Rather than succumbing to the cultural pressure to have children on a designated timeline, these women secured themselves economically, achieved a lifetime's worth of goals, and then had babies when it made the most sense for them.
I'm 27, much younger than all of these women, but watching them have children at a time in their careers when it was convenient for them gives me hope. While creating a family is important to me, I'm still in the process of building my career as a writer and scholar, and there are a lot of goals, such as earning a doctorate degree in Women's Studies, or traveling to every continent, that I still haven't accomplished.
Children aren't necessarily a hindrance to living out your dreams. However, motherhood asks women to be self-sacrificial, which isn't something I am capable of doing at this point in my career. In Beyoncé, Janet Jackson, and Serena Williams, I see black women like myself, who are unashamed of prioritizing their careers before starting families. They haven't treated marriage and childrearing as accomplishments in themselves. Their partners and their babies are additions to the lives they've created. It's a blatant rejection of the cultural pressure imposed on women, especially black women, to "settle down" and "find a husband" before the opportunity passes us by.
In 2009, the trope of the independent black woman incapable of keeping a man sparked national media headlines. Nightline ran a viral segment about successful, unmarried black women including the panic-inducing statistic that 45 of black women in the United States have never been married.
The stereotype of the successful, childless, unmarried, and unhappy black woman still has a stronghold on popular culture. It's present in a number of movies, including Deliver Us From Eva, Something New, Daddy's Little Girls, and I Can Do Bad All by Myself. The single black woman myth equates singleness and childlessness with misery. Black celebrities who choose to have babies later in life are pushing back on that idea. They're in control.
The single black woman myth equates singleness and childlessness with misery. Black celebrities who choose to have babies later in life are pushing back on that idea.
Yet Serena, Beyoncé, and Janet's pregnancies aren't unique. They echo a societal trend: Women are having children later than they used to. In 2014, the Centers for Disease Control and Prevention found that the average age for a first-time mom is 26.3 compared to 21.2 in 1970. As women have gained more political and cultural agency, like access to birth control, better-paying jobs, and educational opportunities, the constraints of the "nuclear family" have eased. There's also been a simultaneous decrease in teenage pregnancies as well as an increase in women over 30 having babies.
Feminist gains have afforded many women of color, including Michelle Obama, the opportunity to forego motherhood until they have firm footing in their careers. For instance, Michelle didn't marry Barack Obama until she was 28 and already a practicing attorney. She had Malia at 34 and Sasha at 37, after she'd become the associate dean of student services at the University of Chicago. It's a model for how I imagine the future unfolding for me.
Of course, there are class and racial limits associated with having children later. It's a luxury reserved for those who are middle-class, formally educated, and salaried. Every woman also doesn't have equal access to reproductive healthcare, so the circumstances leading to the decision to become a parent are complex.
Yet for me, watching strong black women in their 30s, 40s, and even 50s choose when they have children makes me realize that I have time. There's no need to panic. Instead, I am taking a deep breath, popping a birth control pill, and continuing toward my goals — baby be damned.
Evette Dionne is a Black Feminist culture writer and editor. Her reported features, commentaries, and personal essays have been published in multiple digital and print publications, including The New York Times, Bitch Magazine, Bustle, VIBE Magazine, The Toast, Refinery29, Clutch Magazine, and MIC. Dionne is also a media scholar who researches Black female sexuality and pleasure in media texts. She is based in Denver.