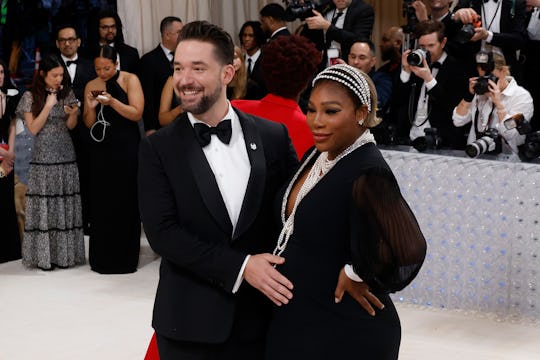 Taylor Hill/Getty Images Entertainment/Getty Images
Serena Williams Revealed She's Pregnant With Baby #2 At The Met Gala
Olympia is going to be a big sister!
Serena Williams is officially going to be a mom of two. When she and husband Alexis Ohanian attended the Met Gala on Monday, they arrived as a party of three. The tennis star, the Reddit co-founder, and her baby bump. The only member of the family missing was the couple's 6-year-old daughter Olympia, which makes sense as the Met Gala is not exactly a kid-friendly event.
Williams officially announced that she and Ohanian are expecting their second child together with an Instagram carousel of photos from the Met Gala, including one where she is cradling her baby bump. "Was so excited when Anna Wintour invited the 3 of us to the Met Gala," she captioned the post.
The couple did not share further details about the pregnancy like Williams' due date or the sex of their baby. But fans of Williams might not be terribly surprised to discover that she had plans to add to her family. Last August, Williams opened up in an essay for Vogue about her plans to step back from tennis and potentially expand her family, sharing a sweet moment with daughter Olympia that had happened that morning. "We're in my car, and she's holding my phone, using an interactive educational app she likes. This robot voice asks her a question: What do you want to be when you grow up? She doesn't know I'm listening, but I can hear the answer she whispers into the phone. She says, 'I want to be a big sister.'"
Now she's about to get her wish.
Williams has been very candid about her her traumatic birth experience the first time around, writing an essay in the book Arrival Stories: Women Share Their Experiences of Becoming Mothers. As Williams detailed, she had developed blood clots in her lungs that left her needing an emergency C-section. "In the U.S., Black women are nearly three times more likely to die during or after childbirth than their white counterparts," she wrote at the time. "Many of these deaths are considered by experts to be preventable. Being heard and appropriately treated was the difference between life or death for me; I know those statistics would be different if the medical establishment listened to every Black woman's experience."
The expectant mom has brought so much awareness to the risk Black mothers face when giving birth. And both Olympia and Olympia's new sibling will undoubtedly be proud of their incredible mom.