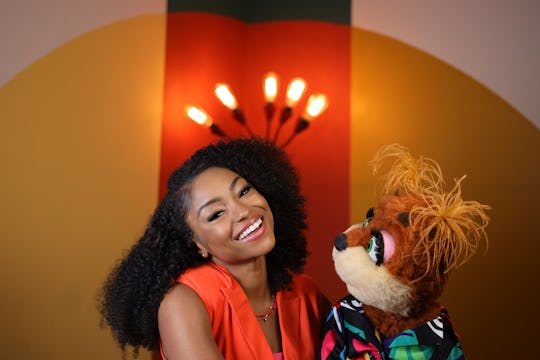 Bootzilla Records
Sesame Street Puppeteer Megan Piphus Says The Secret Service "Melted" When They Met Elmo
To be fair, Elmo has that effect on everyone.
For most of us, seeing our parents' office on "Take Your Child To Work Day" probably wasn't terribly memorable or exciting. But Megan Piphus is really excited to bring her young sons to her job. "I think that's my favorite part of working on Sesame Street, seeing other people's first time coming onto the set," she tells Romper by Zoom. "I got to see the First Lady's Secret Service team come onto the set and they melted and took selfies with Elmo!"
While her boys, Leo, 4 and Tyson, 2 have not been able to visit the set in the three years Piphus has been with the show — making history as the series' first full-time Black female puppeteer best known for performing Gabrielle — they have had some up close and personal time with the neighborhood's most famous residents. "They've been spoiled," Piphus says with a smile. "Whenever I FaceTime them from Sesame Street, they're like, 'Where's Elmo? I want to talk to Elmo!' I know they're going to love it when they get to come to the set."
Phiphus' story doesn't start with Sesame Street. Depending on when you've Googled her, you would get different, but invariably impressive results. From the "Valedictorian Ventriloquist" in high school (who gave her school's farewell speech with, and through, a puppet named George) to a contestant on America's Got Talent in college, successful real estate financier to Emmy-winning creator of $martPath, a series of shorts that taught children about financial literacy.
"I've lived many lives," she says, and… yeah, no kidding. Most recently, she's added another accomplishment to her resumé: as May & Them Pups, Piphus has released her first children's album, Spaceships and Dreams, produced by Piphus, Sir the Baptist, and funk legend Bootsy Collins.
Piphus grew up in a musical house. Not only was her father the church pastor, he was also the music minister of his congregation. "I didn't realize until I was such older that I basically learned how to songwrite and how to arrange music by being in the room with my dad," she says. "Before choir rehearsal, he would arrange songs on his keyboard with full instrumentation — percussion, horns, strings, keys — and he would do it in a matter of just a couple of hours and I would just sit and watch him." As a result, Piphus has been writing songs since she was 12, and while she always knew she wanted to put out an album, though she was never quite sure of what it would look like until Sir the Baptist approached her to collaborate on a children's album.
Spaceships and Dreams, a hip-hop/pop album featuring Piphus and several of characters, was created to inspire children to find their own unique voices and gifts to help their communities. It's something she has some experience with. As a child, Piphus say she was "incredibly shy" and though she'd been writing her own songs since she was 12, she wasn't comfortable singing, or even speaking in front of an audience until she discovered puppetry.
"I would always think way too hard about what I was going to say in a room full of people and puppetry helped me break out of that shell and express through a puppet," she says. "So I started singing with my puppet first, and then I eventually felt comfortable singing by myself." It's a phenomenon she's actually seen repeated with her own children.
"I let them use my puppets and it really helps with getting them to express themselves," she says. "My oldest is very shy, and so he opens up when I put a puppet on him, he experiments with his voice, the possibilities, of how loud he can be, how soft he can be, how excited he can be. So it's a great way of learning expression and I've seen it through them."
Piphus first came to puppetry and ventriloquism the same way she came to music: through church. At 10, she attended a puppetry conference with other kids from the congregation, and Piphus was blown away by the female performers she saw. She came home, told her parents she wanted to be a ventriloquist, and picked up some videotapes from the library to help her learn. Through puppets, she found a way to combine two passions that meant so much to her, and a new way to engage with audiences; even those who might be skeptical of puppet acts at first are quickly swept up in Piphus' performance.
"I think the surprise of being able to make something that's inanimate mimic human life — whether it's poignant or comical — draws people into a magic. I think it triggers hope," she says, and I wonder if she noted my confusion as she went on to explain. "So, hope is believing in something that hasn't happened yet. When you see this puppet, you have expectations of what it's going to be like. I feel like as puppeteers we're able to expand people's imagination of what's something that's not real can do."
And where better to inspire that hope than on Sesame Street? Piphus joined the show's mentorship program in March of 2020, and while the series is known for being kind and cuddly, the (entirely virtual) training was grueling and humbling.
"I spent months sending videos back and forth and getting critical feedback not just from the fellow mentees but also master puppeteers," she says. "They really retaught me the basics of puppetry, and I think that's what hurt my pride. I had been doing puppetry for probably, I don't know, 17 years at that point. I felt like I was starting at the ground. But ultimately I'm grateful for that training; they've taught me how to do puppetry in the most ergonomical way so that I'm not straining my hand so that I can have a 40-year career."
That career, she hopes, will one day include writing and developing a show featuring her characters, which remains Piphus' "long-term dream." But until then, one could certainly do worse than working on the happiest street on Earth.
"It feels like walking into the television screen and walking into the imagination of your childhood, and it's overwhelming because it's a real place," she says. "You grow up and you realize, 'OK, the puppets weren't real. It wasn't a real thing,' but you get there and you realize how real everything is. You can walk up the Sesame Street steps and sit on the stoop, you can get inside Oscar's trash can. We can't step into the world of Looney Tunes or SpongeBob, but Sesame Street is a real place with real people."
Spaceships & Dreams is available now on Spotify and Apple Music.